2009 Transformer Cabinet Mural Projects
In its fourth year, the Transformer Cabinet Mural Project saw eleven local artists painting active and colorful murals on Fort Collins electrical equipment. As a graffiti abatement program that has the Fort Collins Art in Public Places Program working in cooperation with Utilities Light and Power, the project has enjoyed great success in lowering maintenance costs. And of course, it also brings interesting original art to unexpected places in the city.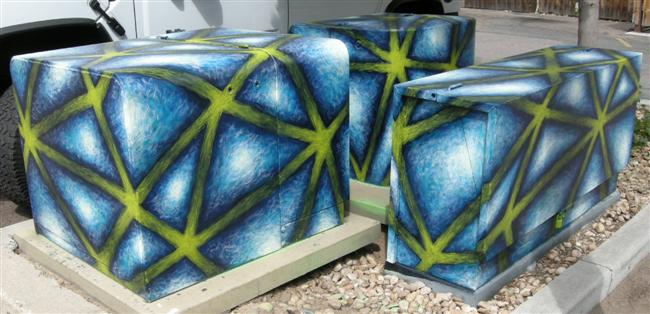 Artist: Michael Allison
Location: In the alley behind 824 S. College Ave.
Description: Michaels abstract composition, Connections, reveals a story about relationships on this grouping of 3 cabinets. It provides a space for contemplating life and energy as it exists inside and outside the elements of our experience.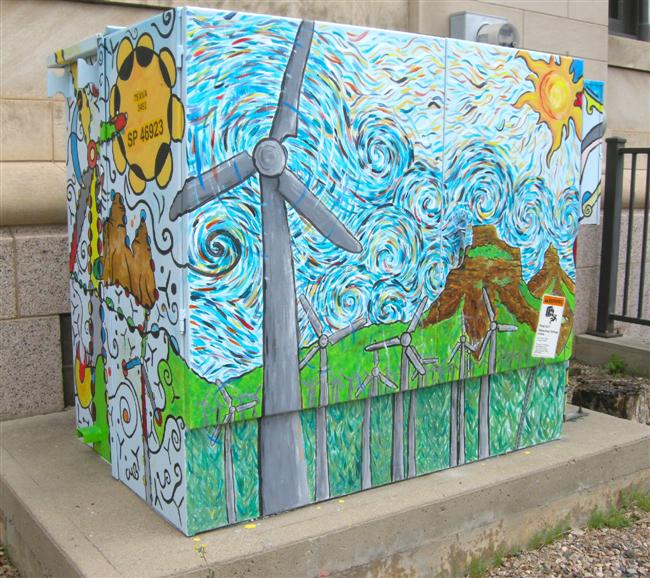 Artist: Chris Bates
Location: Behind 201 S. College Ave.
Description: Butte-iful Farm is an ode to the wind farm at the Pawnee Buttes. Taking advantage of the cabinets close proximity to the FCMOCA, Chris has referenced three artistic masters in his painting style. The North face is in the style of Miro, the West face, Van Gogh, and the South face, Picasso.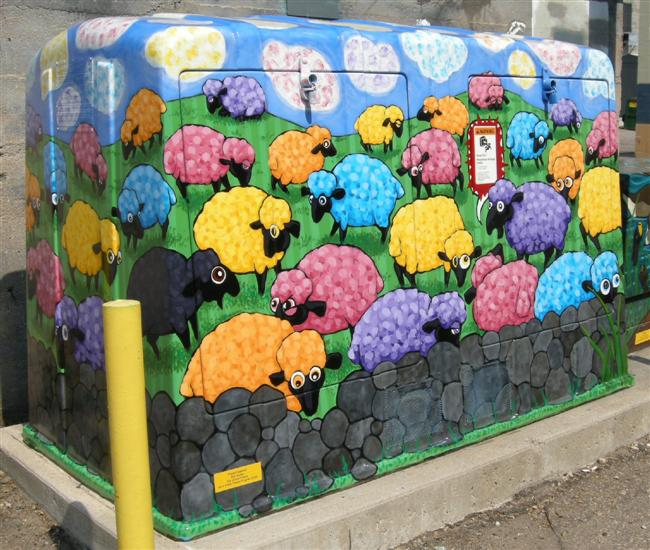 Artist: Ren Burke
Location: In the alley behind 326 Walnut St.
Description: Painting the cabinet right next to her Wetland cabinet mural from 2008, Ren moved to dryer land with Pastel Pastoral. An enchanting flock of colorful sheep graze on a grassy hill. With comical looks on their faces, each one has its own personality.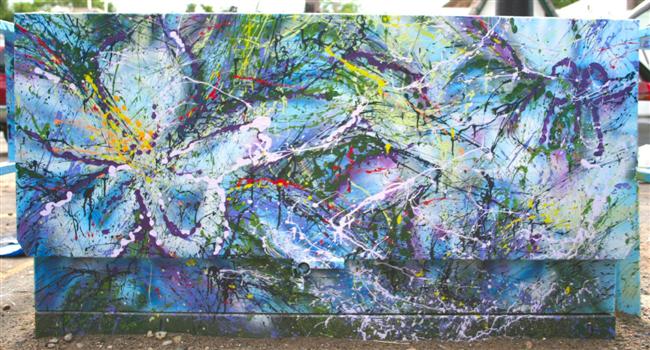 Artist: Lisa Cameron
Location: In the alley behind 632 S. College Ave.
Description: Up close, Electric Gardens looks like a crazy jumble of bright paint splashes (which is exactly what it is). But from a distance, you can see that there is a method to Lisas madness as images of hummingbirds, columbine flowers, and prickly pear cactus immerge as your eyes connect the dots of paint on this grouping of 3 cabinets.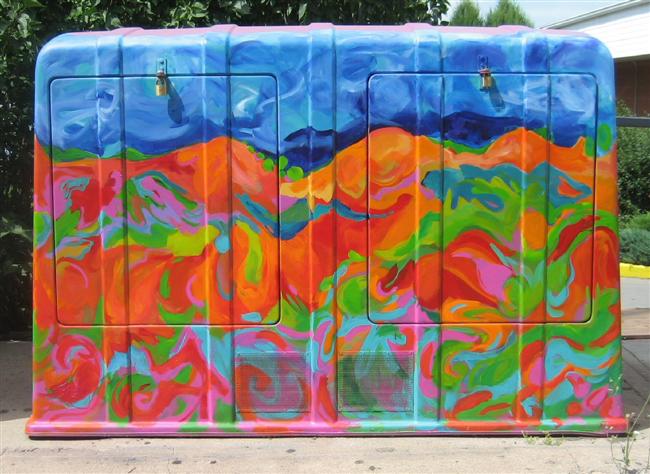 Artist: Diane Findley
Location: Behind 132 LaPorte Ave.
Description: Diane continues her mural theme, This Land is Your Land, by painting the fourth cabinet at her cabinet site from 2008. A swirling brightly colored mountain landscape fits right in with the rest of the group for a panoramic view.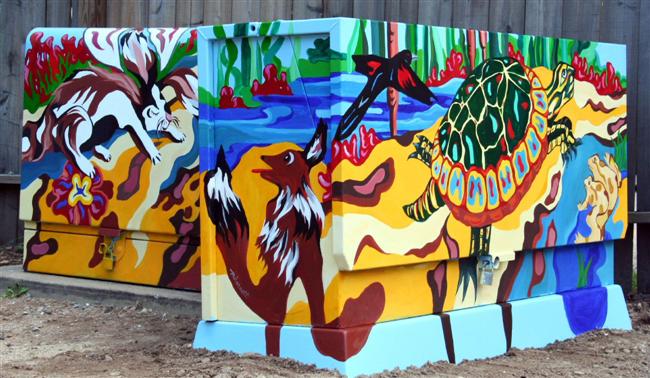 Artist: Mary Harnett
Location: In the alley behind 721 S. College Ave.
Description: Using the official reptile of the state of Colorado, the Painted Turtle, as the central figure in her mural, Slow and Steady Wins the Race, Mary illustrates Aesops fable of The Tortoise and the Hare. Painted over 2 cabinets, you will find the rabbit dreaming of carrots as the tortoise heads toward the finish line.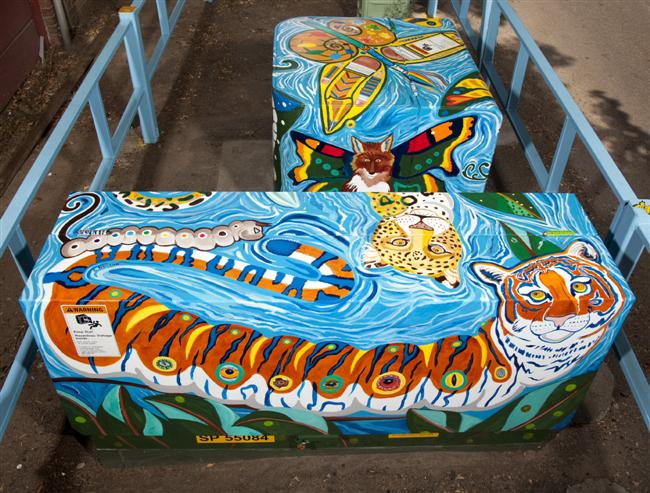 Artist: Carol Hossan
Location: In the alley behind 612 S. College Ave.
Description: On 2 cabinets, Carole has painted whimsical creatures from her imagination. For her mural, Instars, the main characters are a Tiger-pillar and a Leopard-pillar. For her second cabinet mural, The Ultimate Transformers, she has created many fanciful butterflies. Check the West side of the long cabinet for a key that lists all the surprises you can find within her mural.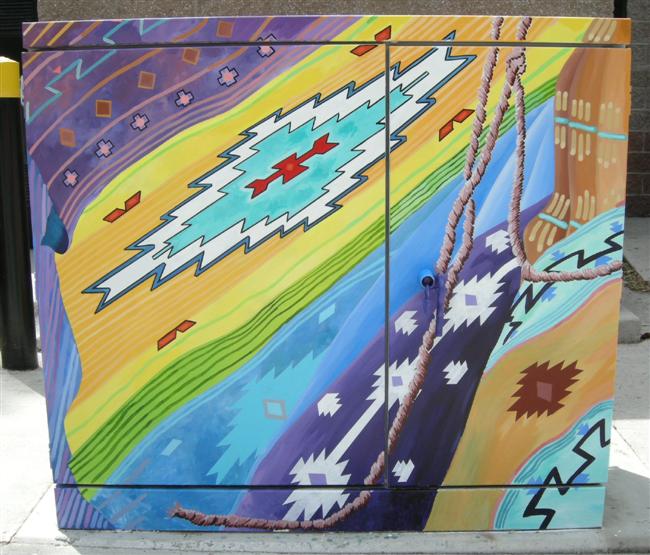 Artist: Barry Quinton Lee
Location: In the alley behind 616 S. College Ave.
Description: In his mural, Donna Beths Blankets, the artist embraces Colorados Western heritage. Multiple Native American weavings form an abstracted composition as they appear to be draping over the cabinet.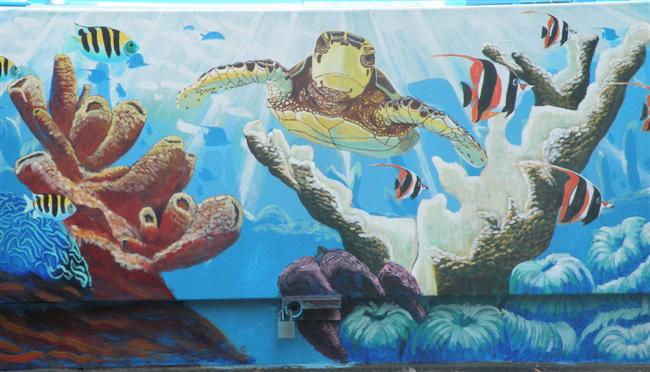 Artist: John Moore
Location: In the alley behind 642 S. College Ave.
Description: A realistic aquarium comes to life in Johns mural on 2 cabinets. Hawksbill Reef depicts sea life, such as colorful clown fish, an eel, and a Hawksbill Turtle swimming in and out of a coral reef.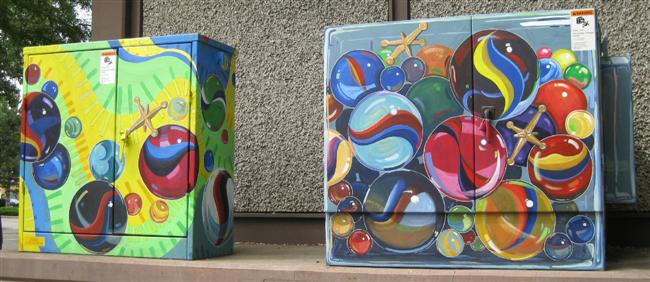 Artist: Kirsten Savage
Location: On the Northeast corner of the intersection at Mason and Mulberry Streets
Description: Lost My Marbles features dazzling shiny marbles and jacks spilling out of a glass jar and bouncing away. The artist hopes to lighten the mood of impatient drivers and pedestrians as they are ready to lose their marbles waiting for trains to pass through the intersection.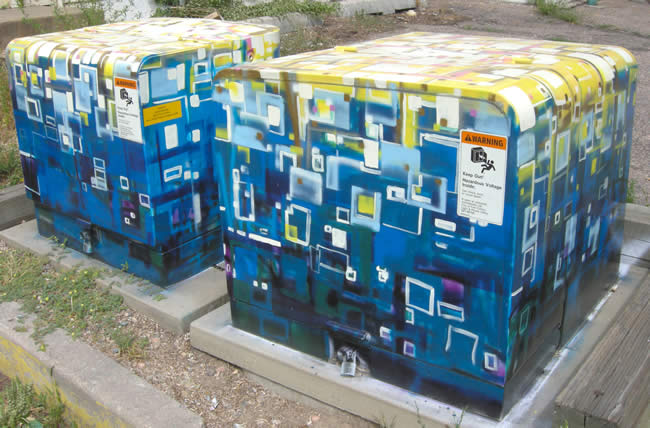 Artist: Jared Washam
Location: In the alley behind 802 S. College Ave.
Description: In his mural on 2 cabinets, Jared uses abstraction to express the glistening summer sun reflecting off the water of the Cache La Poudre River as it flows through Fort Collins. In a conscious effort to keep his process green, the artist used recycled house paint from the county landfill for his mural.