2008 Transformer Cabinet Mural Projects
The City of Fort Collins Art in Public Places Program (APP) along with the Fort Collins Utilities (Light and Power) worked with local artists and non-profit groups to add beauty to selected electrical transformer cabinets in the downtown area.
Artists and non-profit groups were chosen through the APP selection process to paint colorful murals on transformer cabinets in various locations throughout Fort Collins. This exciting project is designed to help mitigate graffiti on these cabinets that are often tagged. The APP Program used local artists and community groups to help solve this problem to enhance our community.

Artist: Michael Allison
Location: In alley behind 218 Walnut
Description: Electricity, a grouping of 4 cabinets, is painted in the artists abstract style. The objects in the mural provide a space for contemplating life and energy as it exists inside the smallest, or microscopic, elements of our experience, as well as within the immensity of outer space.
Artist: Ren Burke, 1 of 2
Location: 120 W. Laurel St.
Description: In the artists vivid style, Flight depicts a flurry of color and pattern as a stylized flock of various bird species, indigenous to the Fort Collins area, seemingly erupts from the transformer cabinet doors. Look on the back of the bollards for a key listing the bird species represented.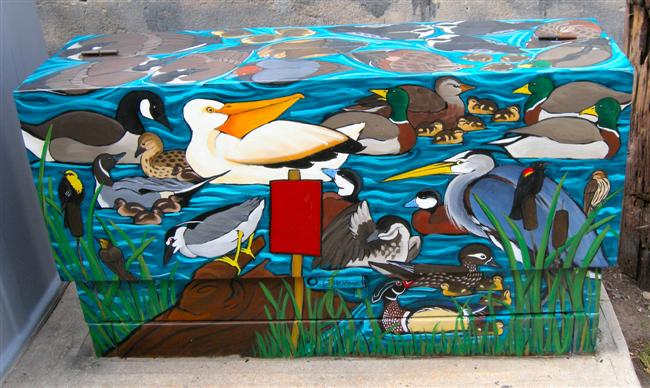 Artist: Ren Burke, 2 of 2
Location: In alley behind 326 Walnut
Description: Wetland shows a quiet pond filled with all manner of waterfowl as well as many other birds that live along the waters edge.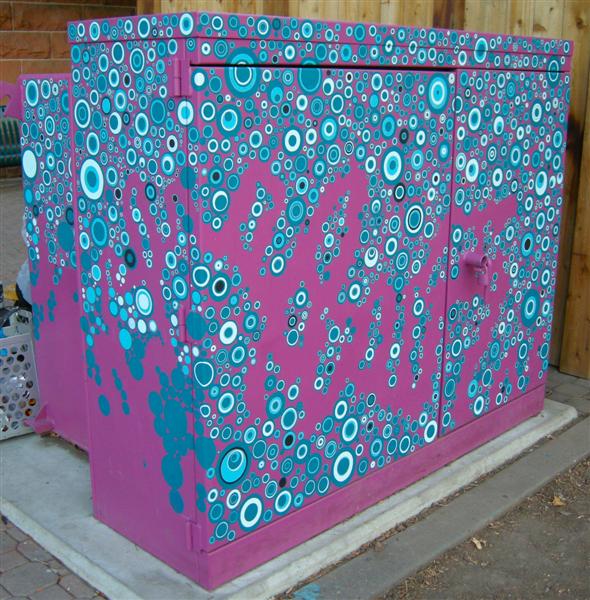 Artist: Amelia Caruso
Location: On the North end of Old Town Square at Linden and Walnut
Description: The idea of space and depth in nature is Amelias inspiration. Taking visual clues from Australian aboriginal dot patterns, Mandelbrot sets, fractals, satellite photos and an interest in the flow of negative space, Seafoam has taken shape.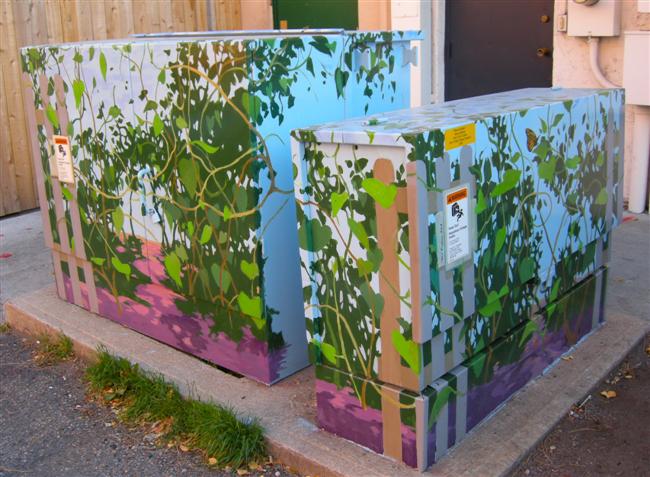 Artist: Nanci Erskine
Location: In alley behind 154 W. Mountain
Description: In Secret Garden, the artist creates a play of light and shadows, with lush painted greenery climbing over and around a picket fence. An unexpected oasis of vines and patterns is created in an otherwise stark alley.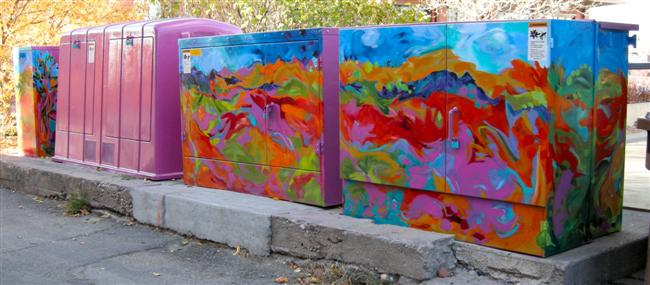 Artist: Diane Findley
Location: Behind 132 LaPorte, original eastern-most cabinet is currently being relocated, check back for updated location
Description: 3 cabinets in this grouping were painted in 2008, the 4th cabinet was painted in 2009. The eastern-most cabinet was relocated in 2014 and a new cabinet, painted in 2014, took its place. In these cabinets, elements of the Colorado landscape roam and ramble through scenic byways, under endless skyways. These cabinets titled, This Land is Your Land, give a wink and a nod to Woody Guthrie.
Artist: Mary Harnett
Location: In parking lot behind 143 W. Mountain
Description: Poudre Tracks in Four Directions uses a flowing and colorful combination of abstraction and Southwest Native American symbology of the four directions, birds, and animal tracks to depict many of the creatures that regularly use the Poudre River.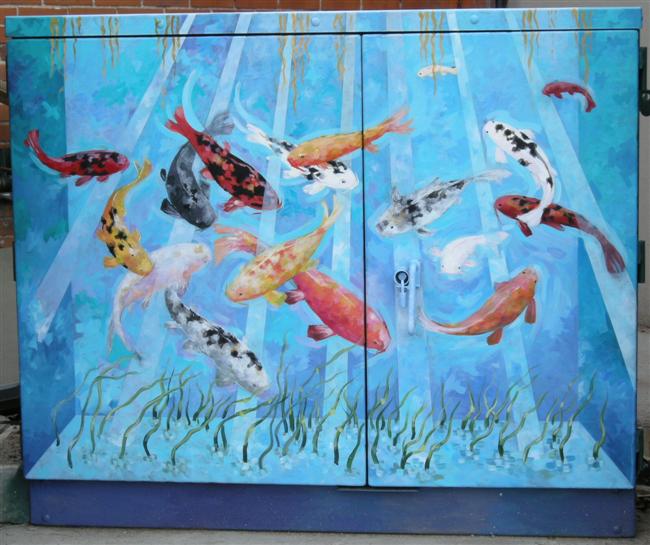 Artist: Barry Quinton Lee
Location: Relocated to 2140 Valley Forge
Description: In reference to time spent in Hawaii, the artist has created, Koi Ploy, an active underwater koi pond, complete with lily pads floating on top.
Artist: Barry Quinton Lee
Location: In alley behind 314 E. Mountain
Description: The artist continues his Hawaiian transformation with 2 cabinets painted in a colorful display of torch ginger and passion fruit flowers, bringing the exotic colors and forms of the tropics to Fort Collins.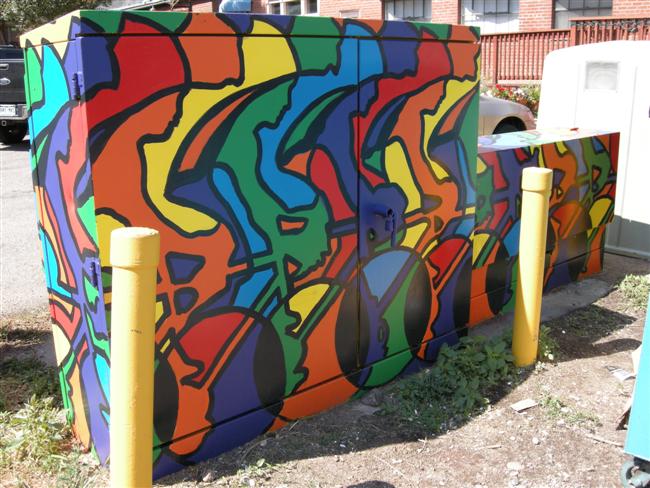 Artist: Blake Neubert
Location: In the alley behind 240 Walnut
Description: Color Wheels is a vibrant repeated and layered image of a bicyclist brightly depicted in colors taken directly from the artists color wheel.
Artist: Kirsten Savage
Location: In alley East of the Civic Center Parking Structure at Mason and LaPorte
Description: In these vivacious murals titled, "Jungle Jumble" on the left (painted in 2011 to replace a Tree Frogs cabinet that was relocated to parking lot behind 143 W. Mountain ) and "Tree Frogs" on the right, a variety of different jungle dwellers are featured. Welcome to the jungle!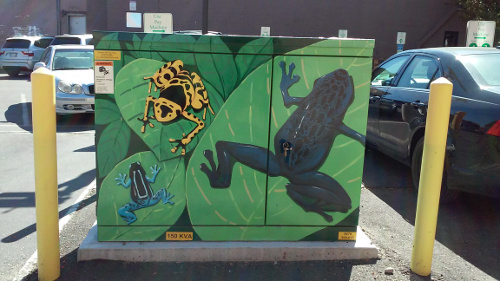 Artist: Kirsten Savage
Location: Relocated to parking lot behind 143 W. Mountain
Description: Originally located in alley East of the Civic Center Parking Structure at Mason and LaPorte with the other "Tree Frogs" cabinet mural.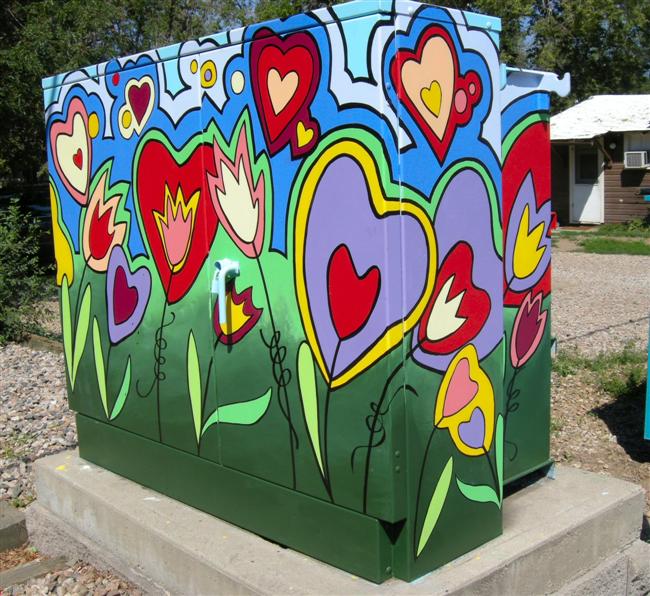 Artist: Crossroads Safehouse
Location: 316 Jefferson St
Description: The design for Hope Grows was designed and outlined on the cabinet by Kendra Spanjer, a local marketing illustrator. Then a group of volunteers from Crossroads Safehouse converged at the cabinet and painted it in a one-day flurry of action and color. The cabinets message is fun and hopeful, suggesting lives beginning, evolving, taking shape and interacting.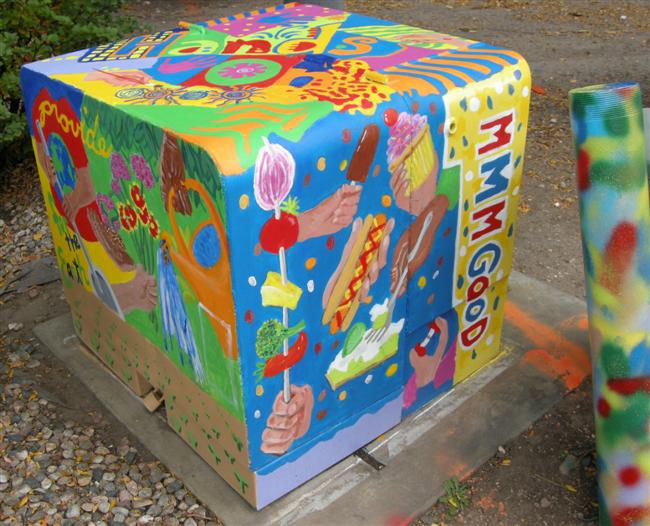 Artist: T.R. Paul Academy of Arts and Knowledge, 1 of 2
Location: In alley behind 310 S. College
Description: Youth from the local charter school designed and painted, Hands On, the first of their 2 cabinet murals. It depicts hands engaged in many different daily functions. The mural concept also illustrates the hands on experience of painting the transformer cabinets.
Artist: T.R. Paul Academy of Arts and Knowledge, 2 of 2
Location: In alley behind 330 S. College
Description: Just down the alley from Hands On, is the groups second cabinet mural, Teamwork, which is what it took to complete the complex and lively designs they painted over the course of the summer.