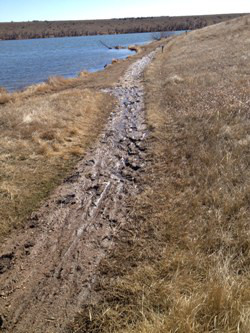 Natural Areas Trail Conditions
Natural Area trails are unpaved, soft surface trails. When trails are wet and muddy, they are closed to prevent resource damage. Closures are posted here and at the trailheads. Rangers monitor conditions at closed trails daily, and reopen as soon as conditions allow. To learn more, call a ranger, 970-416-2147. Paved trails such as the Spring Creek Trail, Mason Trail and Poudre River Trail are managed by City of Fort Collins Parks, check Parks' Trail Status page for paved trail conditions.
Cattail Chorus :
The Poudre Trail between Timberline and Prospect will be closed until February for riverbank stabilization. The Spring Creek Trail will be closed between Prospect and the Poudre Trail junction.
Fossil Creek Reservoir Nat. Area (formerly Regional Open Space):
The Cattail Flats trail at Fossil Creek Reservoir is closed for roosting bald eagles. There may be prescribed fires here this winter- check here for updates.
Gustav Swanson :
The Poudre Trail will be closed between College and Linden for riverbank stabilization by Fort Collins Utilities. Work will begin in early January and is expected to last for two weeks.
McMurry :
Access is closed from Shields Street/ Ackerman Court. Other work, including utility construction, bridge replacement, trail underpass installation and area improvements mean that the Poudre Trail between Lee Martinez Park and Taft Hill Road will remain closed until mid-July 2015. Detour route uses Taft Hill Rd, West Vine, Wood Street, Elm Street and Lee Martinez Park.
Reservoir Ridge :
Prescribed fires may be conducted here during the fall and winter months of 2014/2015.
Riverbend Ponds :
The boardwalk near the Cherly Street entrance will be reconstructed, so that segment of trail will be closed from January 5 to July 2015. Please use alternate trails and access points during the project.
Soapstone Prairie :
Soapstone Prairie Natural Area is closed for the season; all trails are closed until March 1, 2015. For trail conditions at Red Mountain Open Space, please check with Larimer County Rangers or http://www.co.larimer.co.us/parks/parkareas.htm .
Springer :
The Poudre Trail at Lemay will be closed from late December to June 2015 for work to install new pedestrian bridges and riverbank grading.
All other trails are open! Enjoy your natural areas!