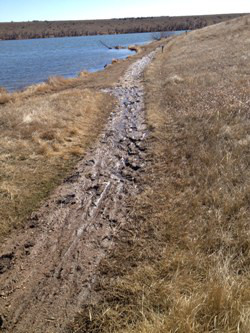 Natural Areas Trail Conditions
Natural Area trails are unpaved, soft surface trails. When trails are wet and muddy, they are closed to prevent resource damage. Closures are posted here and at the trailheads. Rangers monitor conditions at closed trails daily, and reopen as soon as conditions allow. To learn more, call a ranger, 970-416-2147. Paved trails such as the Spring Creek Trail, Mason Trail and Poudre River Trail are managed by City of Fort Collins Parks, check Parks' Trail Status page for paved trail conditions.
Kingfisher Point :
Timberline Road will be closed September 2-12 between Mulberry and Prospect, which will prevent access to Kingfisher Point Natural Area from the Timberline parking lot.
Soapstone Prairie :
IS NOW OPEN with the exception of Cheyenne Rim Trail, the Plover Trail and the Canyon Trail. These trails will remained closed indefinitely until crews can repair damage caused by recent flash flooding.
All other trails are open! Enjoy your natural areas!