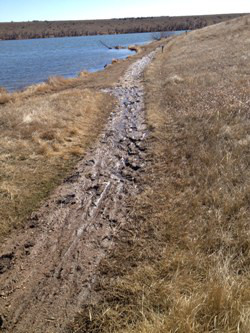 Natural Areas Trail Conditions
Natural Area trails are unpaved, soft surface trails. When trails are wet and muddy, they are closed to prevent resource damage. Closures are posted here and at the trailheads. Rangers monitor conditions at closed trails daily, and reopen as soon as conditions allow. To learn more, call a ranger, 970-416-2147. Paved trails such as the Spring Creek Trail, Mason Trail and Poudre River Trail are managed by City of Fort Collins Parks, check Parks' Trail Status page for paved trail conditions.
Pineridge :
There is a partial trail closure on the east side of Dixon Reservoir on Thursday 9/18 and Friday 9/19 for trail work.
Prospect Ponds :
There has been a fish die-off in the southern pond due to hot weather and excessive blue green algae. The smell of decaying fish will gradually decrease. For more information, please contact Colorado Parks and Wildlife, 970-472-4300.
Riverbend Ponds :
There is a partial trail closure near the Prospect Street entrance's restroom on Thursday 9/18, Friday 9/19 and Monday 9/22 for trail work. The work involves heavy equipment, please respect the closure and use alternate trails for your safety.
Running Deer :
Access at the Welcome Center will be closed Tuesday 9/16 and Wednesday 9/17 for trail construction. Please use the Prospect Street entrance instead.
Soapstone Prairie :
IS NOW OPEN with the exception of Cheyenne Rim Trail, the Plover Trail and the Canyon Trail. These trails will remained closed indefinitely until crews can repair damage caused by recent flash flooding.
All other trails are open! Enjoy your natural areas!