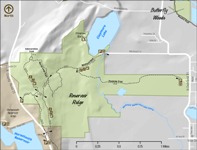 Reservoir Ridge Natural Area
Description
Visitors to this foothills natural area enjoy its rugged trails, access to the 8.2 mile Foothills Trail, wildlife viewing opportunities and a feeling of remoteness- all close to Fort Collins. You'll see dramatic rock outcroppings, grasslands, mountain mahogany shrubs and a few ponderosa pines. Views of the city, the foothills and Horsetooth Reservoir are great from the trails!
Near the Michaud Lane entrance to Reservoir Ridge is Primrose Studio, a venue for small meetings (capacity 25) and education events. The facility is wheelchair accessible, and available by reservation. More information about Primrose Studio
Trails
There are about 5 miles of soft surface trail. Reservoir Ridge is the northern end of the 8.2 mile Foothills Trail. The Foothills Trail connects Pineridge, Maxwell and Reservoir Ridge natural areas. Trail markers show you the way. Biking on the Foothills Trail is for the experienced cyclist- the trail is challenging.
The Overland Trail Rd trailhead was opened 2013 and the Foothills Trail was extended by 1.4 miles. The new section of trail is flat and easy and it connects to the Michaud Spur. Reservoir Ridge Trail map >>>
A 3/4 mile section of the Foothills Trail on the east side of Reservoir Ridge will be rerouted soon. The new trail replaces a deeply eroded and irreparable section of trail. Most of the trail was built by volunteers from Otterbox, Colorado Addicted to Trailbuilding Society (CATS), and Overland Mountain Bike Club- thank you! The old trail will be closed and seeded. Visitors are urged to be cautious when approaching intersections and corners as line of sight may be limited at times.
Hours
Reservoir Ridge is open daily from dawn to dusk.
Directions
Parking lots on Centennial Drive/ CR 23, the west end of Michaud Lane and off Overland Trail Road (at approximately 1425 Overland Trail Rd). Horse trailer parking is available: 1 spot at the Michaud Lane parking lot, 2 spots at the Centennial Drive parking lot, 2 spots at the Overland Trail Road parking lot.
Activities & Events
Would you like monthly activity updates, trail recommendations and more? Sign up for the Natural Areas electronic newsletter in the upper right corner of this page.


Free educational programs at Reservoir Ridge Natural Area are available for groups by request, call the Master Naturalist Program at 970-416-2480 or email .

Related Information