Gateway Natural Area
Find a Natural Area | View All Natural Areas
Trail Status:
Open without issues.
Description
Gateway Natural Area is the kind of place you will want to bring your family for a day in the mountains and definitely a place you will be proud to say is part of Fort Collins. Gateway Natural Area (formerly Gateway Mountain Park) is the site of the city's old water filtration plant, where the North Fork of the Poudre River joins the main Poudre River. Visitors enjoy it because its tucked away from the noise of Highway 14 and Gateway is only 15 miles from Fort Collins! You'll find hiking trails, a designated launch area for kayaks and canoes, fishing, picnic tables with grills, informational kiosks and a natural playground.
Most of the materials for the natural playground were reused/ recycled or were found on site. Elements include stepping stumps, a rock streambed, a wooden boardwalk, a sandy area, a carved boat, a rustic log ladder, rock walls and a willow tunnel.
Two picnic shelters are available on a first-come, first serve basis or can be reserved (see below).
The daily parking fee at Gateway Natural Area is $6 (check, cash or credit card). Parking is free in December, January, and February. An annual pass is available and can be purchased at the Natural Areas Department, 1745 Hoffman Mill Road (8-5 M-F, check or credit card only) or at the Gateway Natural Area Office (hours vary, credit card, check or cash).
Photos
Gateway picnic shelters
Gateway Natural Area is a wonderful getaway along the Cache la Poudre River.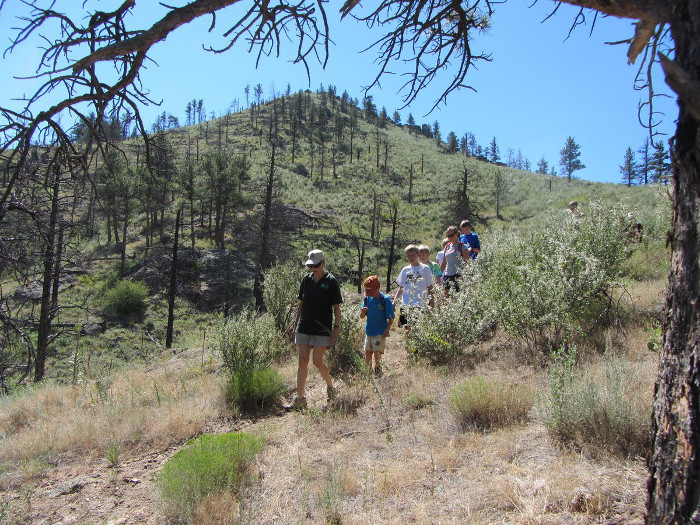 A group explores the Black Powder Trail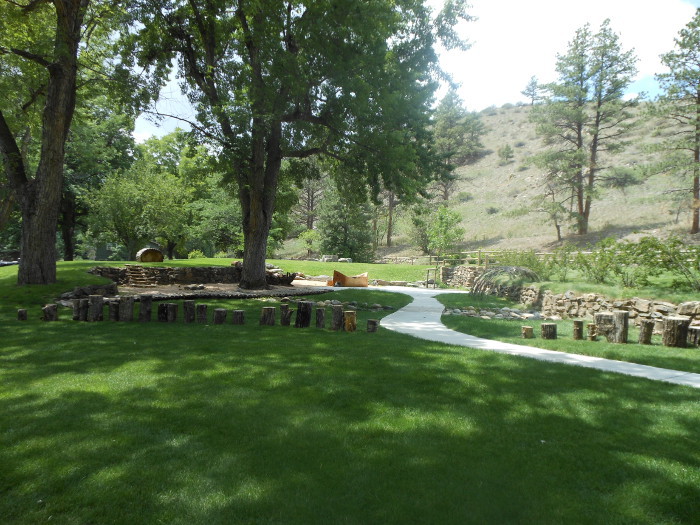 Gateway's Natural Playground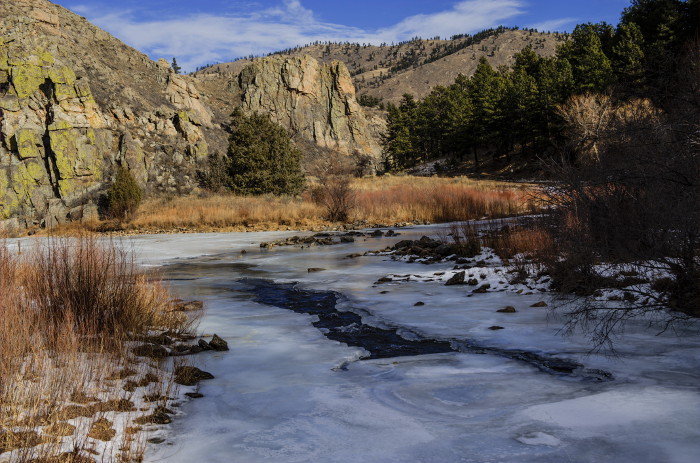 Gateway in winter by Ken Eis
Trails
The Black Powder Trail is 0.8 miles and climbs steeply to an expansive view of the Poudre Canyon. The Overlook Trail is 0.3 miles and it climbs steeply to a beautiful ridgetop. Visitors also access City of Greeley's Seaman Reservoir through Gateway Natural Area. The reservoir is 1 mile from Gateway via a flat dirt road with a short climb at the end.View the trail map
Hours
Gateway Natural Area is open from dawn to dusk. Entering or returning through Gateway is not permitted after dusk.
Directions
Gateway Natural Area is located at 5216 Poudre Canyon Highway (Hwy 14). Take Highway 287 to Highway 14 West, then travel 5.2 miles on Hwy 14 West. Gateway Natural Area is on the right side of the road.
Groups at Gateway
1-15 people- parking fee/annual pass for each vehicle, shelters are available on a first-come, first-served basis.
16-50 people NOT using a shelter-parking fee/annual pass for each vehicle, special use permit, $2/person additional charge.
16-50 people USING a shelter-parking fee/annual pass for each vehicle, and a shelter reservation (Shelter Reservation Form available by calling 970-416-2815 or email bmF0dXJhbGFyZWFzQGZjZ292LmNvbQ==, no special use permit required). Please read Things to Know When Reserving a Shelter before requesting a reservation.
51+ people- not permitted.
Events & Activities
Related Information
Know before you go safety and recreation information.
Gateway Natural Area Ranger Office, 970-407-1106
Gateway has been adopted by Triangle Fraternity. By picking up litter, adopters enhance habitat for wildlife and native plants while increasing fellow visitors' enjoyment. Volunteers to help maintain the natural playground are also being sought.