Police Services Facility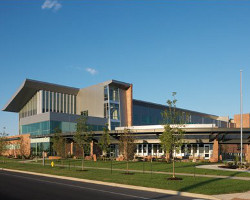 Police Services Facility , click to view enlarged image
Location: 2221 S. Timberline Road
Project Start: March 2006
Completed: August 2007
$32,907,129.00 Project
Significant energy conservation items include:
Day lighting of spaces is 75%.
Evaporative condensing capability is included in the packaged Roof Top HVAC units to increase their efficiency.
Installed boilers are over 87% efficient and have modulating burners.
High performance windows and an energy efficient lighting system enhanced energy efficiency.
Some of the most significant sustainable building highlights were:
84% Forest Stewardship Council Certified Wood
Environmentally responsible forestry practice was executed for harvest wood materials used for doors, casework and roof sheathing.
83% construction waste diversion
Every year there is enough construction debris buried in landfills to build a wall 30 feet high and 30 feed thick around the entire coast of the continental United States.
67% reflective surfaces
Highly reflective roof and paved surfaces curbs the "heat island effect" that results from developing land with dark pavements and roofing materials. It also saves energy by reducing the cooling load of the facility.
50% irrigation water use reduction
Buried drip system irrigation, coupled with native vegetation and radio links to the weather station allows half the water use compared to a conventional sprinkler system.
48% water savings
Low flow lavatories, sinks with motion sensors, and waterless urinals contribute to an estimated savings of 350,000 gallons of water per year.
37% regionally manufactured materials
Limiting the transportation of raw materials and finished goods across the globe greatly reduces energy consumption and CO2 emissions.
26% energy savings
Highly-insulated walls, occupancy and daylight sensors, evaporative condensers, and 87% efficient boilers reduce the building's annual carbon equivalent emissions by 190 metric tons. This is equivalent to saving 21,640 gallons of gas every year.
15% recycled materials
Recycled materials were used in varying amounts in the roofing, siding, glazing, floors, carpets, doors, paved surfaces, masonry, and soil.
Use of Green Power (wind generated)

The following actions were taken to improve building performance even more:
Adjusted lighting controls to turn off stairwell lighting in the daytime;
Added window shades and window tinting on the south side to reduce heat gain;
Added 24 additional motion sensor lighting controls; added independent HVAC systems for Dispatch and Computer Forensics so the main system operational time can be significantly reduced;
Adjusted building HVAC controls for 75 degrees cooling and 68 degrees heating; and
Replaced the controls on the two Roof Top Units with Johnson Controls to enable the most efficient operation of the HVAC System.