2001 Toyota Prius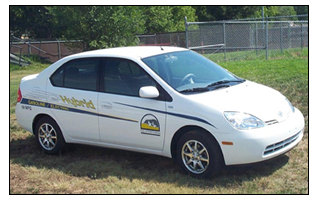 Prius is a new kind of car, called a hybrid, combining a sophisticated gasoline engine with a powerful electric motor. Unlike all electric-only vehicles, Prius' power system is completely self-contained and never needs to be recharged from an outside source.
In this system the engine and motor work together.When engine demand is low (starting, traveling at low load or stopping), Prius is powered by the electric motor. During normal traveling, the gasoline engine engages it's ratio of power input to that of the motor and controlled for maximum efficiency. At full acceleration, the normal traveling mode is boosted by power flowing to the motor from the battery for very smooth, powerful response. And when decelerating or braking, the wheels drive the electric motor which acts like a generator and recharges the battery.
Stats
52 mpg city / 45 mpg highway - This vehicle actually has better fuel economy in the city because it uses less engine power (gasoline) and more of the electric motor
Driving Range: 619 city / 536 highway
Fuel Tank Size: 11.9 gallons
Drive Train Includes: 3 phase electric motor - Generator 1.5 liter 4 cyl. - Engine NiMH battery
Honda also offers a hybrid car that uses similar technology. It is rated for over 70 mpg fuel economy, however because it is only a two-seater, we decided to order the Toyota instead. We expect this vehicle to be delivered in September, and would like to put it in the pool fleet at City Hall.
For more information, contact Tracy Ochsner at Fleet Services at 224-6061.