Northside Aztlan Community Center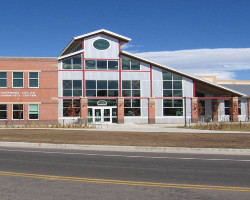 Northside Aztlan Community Center , click to view enlarged image
Location: 112 E. Willow Street
Project Start: October 2006
Completed: November 2007
$10,005,000.00 Project
Leadership in Energy and Environmental Design (LEED) Certification
The U.S. Green Building Council (USGBC) certified the project "LEED Gold." It is the first full-service recreation center in the State of Colorado to be certified at this level.
Construction Waste Management
Diversion of over 95% of the waste generated during construction from the landfill to recycle, reuse or salvage, qualifying for both Construction Waste Management points and an innovation point.
Energy Savings
Energy efficient building shell, HVAC and lighting systems contribute to annual energy savings of 31% over code, which saves the City over $20,000.00 per year.
Water Savings
Efficient plumbing fixtures, such as dual flush toilets, low flow-faucets and shower heads, and waterless urinals, contribute to water savings of 44% (720,700 gallons annually).
Irrigation Water Use Reduction
Native and adapted plant species and high efficiency irrigation systems contribute to a water savings of 52% annually.
Recycled Materials
Recycled content materials comprise over 17% of the cost of the materials used qualifying for both LEED Materials points and an Innovation point. Recycled content materials keep waste from landfills.
Regional Materials
Regional materials (from within 500 miles distance from the site) comprise over 27% of the cost of the materials used. Regional materials sustain the local economy and decrease transportation pollution and cost.
Low Heat-island Effect
The roofing materials used on the Northside Aztlan Center are a combination of a white TPO single membrane system on the flat roof areas along with silver prefinished metal roofing on the sloped roof areas. Reflective roofs decrease heat absorption making it significantly easier to cool the building.
OutsideViews
Views to outside the building are available from approximately 97% of the regularly occupied spaces in the building.