Construction of Poudre Fire Authority Station #4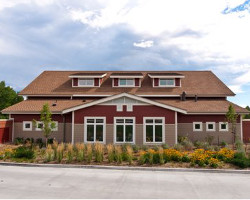 Poudre Fire Authority Station #4, Click to view enlarged image
Construction Details
Location: 1945 W. Drake Road
Project Start: April 2009
Completed: September 2010
$4,419.927.00 Project
Leadership in Energy and Environmental Design (LEED) Overview
The goal of this project, from the on-set, was to achieve LEED Gold Certification, under the U.S Green Building Council LEED New Construction, Version 2.2. Through the exceptional efforts of our Integrated Design Team, which was comprised of members from PFA, the City, and the Design and Build Team, we were ultimately able to achieve LEED Gold Certification. From the conceptual stages of this project, we made decisions that focused on sustainability.
We gained a total of 42 points for LEED Gold certification. As an ancillary benefit to the LEED process, our energy model helped us to support our request to Utilities Light and Power to downsize the transformer, supporting the main electrical service, from 150 kVA to 75 kVA, which will maximize the efficiency of this transformer. Our focus on sustainability will not stop there; we will continue to employ more energy-efficient, cost-effective and environmentally-sensitive means to operate this facility. It appears that this focus is paying off, since early data from actual use shows us operating significantly lower than the Energy Model.
Highlights:
10% Recycled Materials
Recycled materials were used in varying amounts in the roofing, siding, glazing, floors, carpets, doors, paved surfaces, masonry, and soil.
85% Natural Day Lighting
85% of the occupied space has natural day lighting, thus reducing the need for electrical lighting during the daytime.
85% Irrigation Water-Use Reduction
Buried, drip-system irrigation, coupled with native vegetation, reduces water use by half, compared to a conventional lawn-sprinkler system.
40% Interior Water Savings
Low-flow lavatories, showers, and urinals have been combined with dual-flush toilets to provide an estimated annual savings of 49,000 gallons.
28% Energy Savings
Highly insulated walls, occupancy and daylight sensors, an energy recovery unit, and 98% efficient boilers reduce the building's annual energy consumption by 28% below a code-compliant building. This savings equates to the energy in 3,500 gallons of gasoline and will prevent 91 metric tons of carbon dioxide from being released into the atmosphere annually.
100% Reflective Surfaces
Highly reflective concrete-paved surfaces curb the "heat island effect" that results from developing land with dark pavement. It also saves energy by reducing the cooling load of the facility.
20% Regionally Manufactured Materials
Limiting the transportation of raw materials and finished goods across the globe greatly reduces energy consumption and carbon dioxide emissions.
75% Construction Waste Diversion
Every year, there is enough construction debris buried in landfills to build a wall 30 feet high and 30 feet thick around the entire coast of the continental United States. 75% of Station 4 construction waste was able to be reused.