Museum of Discovery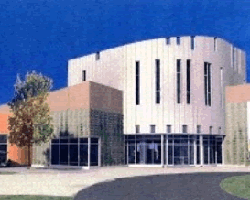 Museum of Discovery Click to view enlarged image
The Museum combines in partnership the Fort Collins Museum and the Discovery Science Center. This allows the Museum to feature science and history, hands-on fun and life-long learning, windows into the past and views toward the future. The building will be 43,100 sq. ft. and will have over 21,000 sq. ft. of exhibit space including two classrooms. The Museum will feature a digital dome that will provide an immersive, large-format 360 degrees theater using digital video and audio technology and will provide interactive educational shows, planetarium-style experiences and movies that explore a wide range of science, history and cultural subjects
Began Exhibit Design and Master Planning - 9/23/08
Start Construction - June 2010
Completion of Construction - September 2012
Opening - 2012
Project Budget - $13,733,500
Highlights:
Constructed on an 11.24 acre site located at the east end of Lee Martinez Park, near the intersection of College Avenue and Cherry Street at 408 Mason Court.
Easy access to bike/walking trail as well as to the Poudre River.
The gallery area features exhibits with themes in Natural Areas, Early Childhood, Music and Sound, Science, Wildlands and Wildlife, Live Animals, First Peoples, Sustainability and Energy, Water, People on the Move and Food, Forage and Farm. Exterior exhibits will feature elements, such as the Wild Zone and Natural Areas.
The facility will be an instrument for teaching stewardship and sustainability. We have a goal to achieve Leadership in Energy and Environmental Design (LEED) Certification at the Gold level and may attain Platinum.
Includes Art-in-Pubic-Places features which will have a focus on water, as well as other significant topics of interest.