Council Tree Public Library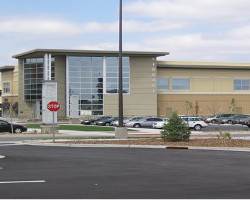 Council Tree Public Library, click to view enlarged image
Location: 2720 Council Tree Avenue
Project Start: September 2008
Completed: March 2009
$5.6 million Project
While the initial goal of the project was to obtain LEED Gold, the U.S. Green Building Council (USGBC) certified the project "LEED Platinum." This was only the second LEED Platinum library in the United States, and the very first LEED Tenant-Finish library project in the country.
Some of the factors which contributed to obtaining LEED Platinum:
Site Selection
The Library benefits from the energy and environmental features of the core and shell, such as:
Location near residential and retail communities allowing patrons to walk, bike or ride a bus to the Library
Bike racks designed by a local artist
Preferred parking for low-emitting fuel-efficient vehicles
Efficient irrigation and water-thrifty plants mean a 55% reduction in water use
The core and shell incorporate over 34% recycled content materials and over 14% regional materials
100% of the wood used is certified sustainably harvested by the Forest Stewardship Council
Construction Waste Management
92% of construction waste was diverted from the landfill. Over 36 tons of material such as cardboard, drywall, concrete, brick, metals, and wood were recycled.
Water Efficiency
Flush and flow plumbing fixtures like sink faucets, shower heads, and toilets contribute to over 55% reduction in water use, qualifying for two LEED water efficiency credits and an innovation credit.
Energy Efficiency
Energy efficiency goals were reached by selecting high-performance lighting, heating and cooling equipment, and Energy Star qualified computers, office equipment, and appliances. Examples of energy-efficient features include:
26% lighting energy savings from efficient fixtures and controls
Daylight controls to turn lights off or down during the day
High efficiency heating and cooling equipment meeting Energy Star requirements and the Advanced Buildings Energy Benchmark for High Performance Buildings Program
97% of equipment and appliances are Energy Star qualified
Recycled Materials and Furnishings
Recycled content was specified wherever available for the library. Examples include:
Metal studs 36% post-consumer/16% pre-consumer
Metal doors 23% post-consumer/6% pre-consumer
Ceiling grid 25% post-consumer
Custom displays and furniture 65% pre-consumer
Counter tops 50% post-consumer
Entrance doors 57% post-consumer/16% pre-consumer
Access floor 12% post consumer/4% pre-consumer
Fiberglass sound insulation 30% post-consumer
HDPE lockers 100% post-consumer
Particleboard 100% pre-consumer
Indoor Environmental Quality
Interior materials were selected with care to reduce toxins and odors. Products low in VOCs (volatile organic compounds) include adhesives, sealants, paint, coatings, cabinets, doors, carpet, linoleum, tile, and composite wood.
High-efficiency air filters are installed in the heating and cooling system to remove allergens, dust, and other particles from the air. The filters are classified as MERV 15 filters, removing 90-95% of pollutants.
Carbon-dioxide sensors are placed in strategic places to direct the ventilation system to deliver more outside air into the library when it becomes crowded.
Before opening to the public, the library was "flushed out" with outside air for several weeks to remove any lingering construction dust or odors.
Common areas in the library were designed to provide views to the outside.
The Library will be maintained, cleaned, and operated to continue excellent indoor air quality and a non-toxic environment. A green cleaning plan has been developed for maintaining the Library space which has been submitted for a LEED innovation credit.
Designed for Sustainability
26% Lighting Energy Savings
55% Water Savings
85% Certified Sustainable Wood Products
92% Construction Waste Recycled
21% Recycled Materials
97% EnergyStar Equipment
LEED CI Platinum Rating Summary:
| | |
| --- | --- |
| Sustainable Sites | 7 |
| Water Efficiency | 2 |
| Energy & Atmosphere | 10 |
| Materials & Resources | 6 |
| Indoor Environmental Quality | 13 |
| Innovation & Design | 5 |
43 of 57 possible points
These points were awarded through LEED certification review under LEED for Commercial Interiors (CI) 2.0.