City of Fort Collins Recreation
The Recreation Department is your community resource for staying active and connected in the Fort Collins community. We offer programs and activities for all ages and abilities.
Registration begins at 7 a.m. on February 2.
You can register for programs three ways:

Online at fcgov.com/recreator,
At Recreation Centers (Northside Aztlan Community Center, Fort Collins Senior Center, EPIC, and Foothills Activity Center)
or by Phone at 970.221.6655
Early Registration for Senior Center Members is January 31.
Hysterical Cafe Comedy Show
Date: Friday, Feb. 24 (4:30-6 p.m.)
Location: Senior Center
Cost: $15 per ticket

Comedy Brewers, Fort Collins' premiere improv group are family friendly with their hilarious games and interactive fun. Light refreshments and cash bar available. Show starts at 5 p.m. Call 970.221.6655 or visit the Senior Center for tickets. Find more information about the Comedy Brewers here.
Spring Artisan Market
Date: Saturday, Apr. 8 (10 a.m.-4 p.m.)
Age: 18 years & up
Location: Senior Center
Cost: No Fee

Spring is in the air and handmade goods are at the Senior Center. Support local artists.
SOAP Troupe, Moments in Time, Blast from the Past II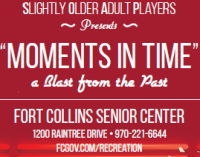 Dates:
Friday, May 5 (1:30-3 p.m. & 7-8:30 p.m.)
Saturday, May 6 (2-3:30 p.m.)
Age: 18 years & up
Location: Senior Center
Cost: $6 per ticket

Be entertained this Spring with SOAP Troupe. Theater performance with comedy skits and musical entertainment performed by the SOAPTones. For tickets call 970.221.6644 or get them in person at the Fort Collins Senior Center.
Kites In The Park
Date: Sunday, May. 21 (10 a.m.-3 p.m.)
Age: All
Location: Spring Canyon Park
Cost: Cost Fee

Celebrate spring, family, and the outdoors. Watch kite demonstrations with giant kites, battling kites, and kite ballet. Decorate your own kite, visit food and merchandise vendors, and of course, bring your own kite to fly.
Welcome Home - Honoring Our Vietnam Veterans
Date: Saturday, May 27 (Noon-6 p.m.)
Location: Veterans Plaza, Spring Canyon Park
Cost: No Fee

This year marks the 50th Anniversary of the Vietnam War. As an official Commemorative Partner in the Vietnam War Commemorative Partner Program, Parks & Recreation and the Veterans Plaza extend our gratitude to those who have served and their families. In addition to a weeklong reading of names at the Traveling Vietnam Memorial wall, a recognition event takes place Saturday and features the USO Show, food trucks, and live music.
The City of Fort Collins is always looking for volunteers willing to dedicate their time, talents, treasures, hearts and hands to help others. If you would like to volunteer for this event, contact Ashley Ruffer at PGFjbGFzcz0=">YXJ1ZmZlckBmY2dvdi5jb20=.
Recreation Department's 2015-2017 Operational Plan
The City of Fort Collins Recreation Department chose to initiate its very first operational planning process in January 2014 with the intention of ensuring organizational improvement and effectiveness.

View the Operational Plan and the Final Report.
Our Operational Plan will guide Recreation's progress through 2017. If you have any comments or suggestions, please contact Recreation Director, Bob Adams at 970.221.6354 or YmFkYW1zQGZjZ292LmNvbQ==.
Pool Tournament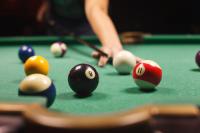 Date: Saturday, May 6 (10 a.m.-3:00 p.m.)
Age: 18 years & up
Location: Senior Center
Cost: $16; $13.75
Compete in a 8-Ball tournament; prizes awarded for the top three scores.
Register online here.
Feb 22

Feb 24

Feb 25

Mar 22

Mar 31

Apr 8

Apr 26

Apr 28

May 5