PARKS RECREATIONAL AMENITIES & AREAS
Edora Disc Golf Course
The Edora Disc Golf Course at Edora Park located at 1420 E. Stuart Street has been reconfigured; and the flow of the course moves to the disc golfer to east and away from the shelter and playground area of the Park. A course map is located at the kiosk on hole one which is just north of the horseshoe pits.

Any person wishing to rent the Edora Disc Golf Course for exclusive use must complete a Field Request form at least two weeks prior to the date of the rental. A permit will be granted based on availability and approval from the Manager of Parks. To check availability and for further information contact Parks at 970-221-6660 or
Aggie Greends Disc Golf Course
The new Aggie Greens 18-hole Disc Golf Course is located at Hughes Stadium. Please contact CSU for details.
Archery Range
The City of Fort Collins has provided the current range for archers to practice since 1984. The range is located on the southwest side of the intersection of Interstate-25 and East Prospect Road at the south end of the frontage road, past the weigh station. The range is maintained by the Fort Collins Archery Association under an agreement with the City. All labor for upkeep is provided by the club and the City provides the materials.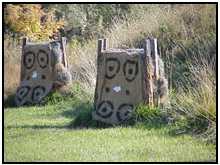 The range is open to the public year round. Range users can purchase a $3.00 daily pass available via a credit card kiosk on site, or a $30.00 yearly pass can be purchased from the Parks Department at 413 South Bryan Avenue. FCAA Members will be issued a yearly pass with their membership.
The range features two practice ranges at marked yardages and an unmarked fourteen target field range that runs along the Poudre River. Tournaments are allowed by permit, but the practice ranges are open to the public at all times. There range also provides restrooms, picnic tables, and a shelter.
Bow hunters use this facility for practice throughout the year. Broadheads, blunts, and crossbows are not permitted for use on the ranges. Boy and Girl Scouts, youth groups, Senior Olympics, and Special Olympics have used the range for training and competition.
Archery Range Safety & Etiquette
The Archery Range can be requested for exclusive use by submitting an Archery Range Request form. An Archery Range Request form must be submitted at least two weeks prior to the date. For more information regarding an Archery Range permit or yearly pass, contact Parks at 970-221-6660 or
BMX Racetrack
The local BMX racetrack is located at the future site of the Southeast Community Park located south of Fossil Ridge High School off of Ziegler Road SaberCat Drive.
The City of Fort Collins, local BMX organization, Epic BMX, national track designer, Lance McGuire, and Sunstate Equipment collaborated on the new racetrack. The racetrack provides local BMX racers the opportunity to race on a professionally designed and professionally built track. The track is larger and incorporates additional safety features. A variety of events, activities and races are planned throughout the summer, but when the racetrack is not being utilized for BMX racing or practices it will be open to the public. For information on the race track visit Epic BMX or call 970.206.1355.
Any person wishing to use the BMX track for an event must submit a BMX Track Permit from the City's Park Maintenance Division, 413 S. Bryan Ave., at least ten (10) days prior to the date of such event. Please contact Parks at 970-221-6660 or .
Horseshoe Pits at Edora Park
The City of Fort Collins currently provides horseshoe pits at various parks throughout the City. Organized league play takes place at the Edora Park horseshoe pits. Fort Collins Horseshoe Club coordinates summer league play at the lighted horseshoe courts at Edora Park. Information may be obtained by contacting Brian Wilson at 970-217-4576 or email at
Any person wishing to rent the Horseshoe Pits for exclusive use must obtain a Large Event Permit from Parks at least two weeks prior to the date of such event, program or activity. A permit will be granted based on availability and approval from the Manager of Parks. Please contact Parks at 970-221-6660 or .
Skate Parks
Northside Aztlan Community Center
The City of Fort Collins' first skate park has been re-established at the Old Fort Collins Heritage Park, located at 112 East Willow Street, just north of the new Northside Aztlan Community Center. Opened to the public in 2008, the park features a combination of transition and street obstacles as well as a smaller version of the "China Bank.&quot. This amenity was partially funded by Great Outdoors Colorado. The park is free to the public and open year-round.
Edora Skate Park
The Edora Skate Park opened Sept. 7, 2001. The 17,500-square-foot concrete facility boasts snake runs, bowls, ramps and rails. The integrated design allows for a seamless flow between park structures, while also catering to varying expertise levels. Located between the Edora Pool Ice Center (EPIC) and the ballfields and tennis courts at Edora Park, the skate park is accessible via the City's transit system as well as Spring Creek Trail. The $385,000 project was made possible, in part, through funding from the 1996 Building Community Choices ballot, Great Outdoors Colorado, the Larimer County Juvenile Probation Department's community cookbook project, and public and private contributions. The park is free to the public and open year-round.
Fossil Creek Skate Park
This 15,000 square foot urban obstacle skateboard park, is nestled in between the parking lots and playground near the front of Fossil Creek Community Park. Opened in 2003, the park offers a variety of steps and ramps to accommodate all skill levels. It includes steps ranging from three to nine high, a three step ramp over water, five grind rails including a three flat three combination, ramps and various platforms. This amenity was partially funded by Great Outdoors Colorado. The park is free to the public and open year-round.
Spring Canyon Skate Park
The skate park at Spring Canyon has a California-style swimming pool with some vertical features and a large flat skating area with art-style skate features. This amenity was partially funded by Great Outdoors Colorado. The park is free to the public and open year-round.
Skate Park Permits
Exclusive is limited. To discuss exclusive use of a Skate Park, please contact the Parks office at 970-221-6660, or e-mail your request to .
Tennis, Pickle Ball, Basketball, Volleyball and Fitness Courses
Our parks also feature many recreational amenities for our citizens and visitors to enjoy while they visit the parks. We have 33 lighted tennis courts and 14 unlighted tennis court; 17 pickle ball courts at 7 parks; 34 basketball courts; 7 volleyball courts all located throughout our park system; we also have fitness courses located at City Park, Golden Meadows, Rossborough and Lee Martinez. Multi-use courts do require the user to provide their own equipment, including free-standing nets. To find what Parks offer these, and other amenities, go to Park Maps and use the filter feature.
To reserve a court for exclusive use, please contact the Parks office at 970-221-6660, or e-mail your request to .