Live or Work
on

the

Route?#
Resident Access#
We work hard to ensure that if you live or work on an Open Streets event route, you have complete access to your destination throughout the entire day. Our volunteers will escort you safely onto or out of the event route if you live along the Open Streets route.
See below for additional detour and resident access information.
Emergency vehicles always have access to the event route. We ensure that proper access is provided and that activity hubs are set up to ensure emergency vehicle access is not restricted. EMTs and Police are also on-site throughout the event.
Parking on a nearby side street is preferable so that residents avoid driving on the Open Streets route when possible.
For more information, contact AnnMarie Kirkpatrick, FC Moves Active Modes Program Assistant at akirkpatrick@fcgov.com.
Detour Routes#
Open Streets events rotate across Fort Collins. In some cases, we create detour routes for area residents and employees to navigate in order to avoid the event route. We directly mail preferred detour information to residences and employers around the event route.
During the event, volunteers will be on the lookout for residents and employees that need access to their residence or workplace. They will ask where your destination is located, then escort you to your destination.
We appreciate your help maintaining a safe and fun environment for all participants.
Please visit 2023 Detour map HERE
On-street Parking#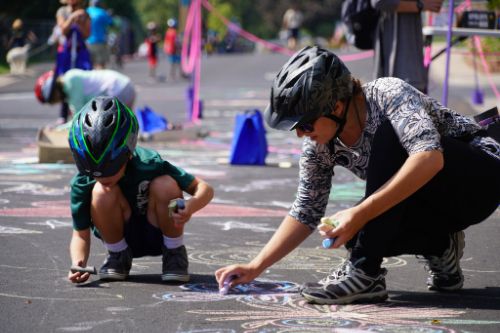 If you live on the event route, on-street parking is not prohibited. However, because activities are located all along the event route, the streets will be somewhat crowded. To help prevent any safety issues, we encourage you to park on a nearby side street, in your driveway, or garage.
Where activity hubs are planned, parking will not be allowed. However, these areas are usually relatively small and will have minimal impact on your on-street parking spaces. Activity hubs do not block driveways or side streets.
Take Advantage
of

Open Streets!#
Open Streets events are fun and free. They generally attract families who ride bikes, scooters, skateboards, walk, or jog. They bring their dogs, explore beautiful neighborhoods, engage in activities for all ages provided by local businesses and organizations.
But, if you live along and Open Streets event route, you can bring your own activity to the street! At past events, neighbors have organized their own barbecues, displayed their art, set up lemonade stands, and brought their breakfast right to the street.
Do you have a special talent that you want to show off at Open Streets? You can officially join Open Streets, or pop up right at home. Contact AnnMarie Kirkpatrick, Program Assistant, at akirkpatrick@fcgov.com for more information. We encourage residents to bring their music, art, products, and neighbors together at Open Streets!
Alcohol Prohibited#
Alcohol is prohibited on the Open Streets route. While businesses along the route are open to serve alcohol to their customers on their property, alcohol drinks are not allowed in the public space. If you feel that participants are drinking alcohol or being rowdy in the public space, please contact an Open Streets volunteer or a route police officer and they will help alleviate the situation.