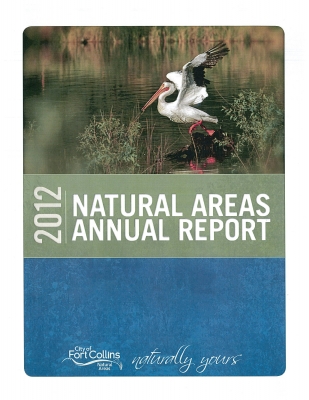 The City of Fort Collins Natural Areas Department is pleased to announce the publication of its 2012 Annual Report. The report gives an overview of the Natural Areas Department and highlights projects, accomplishments and revenue/expenditure information. Articles include:
• Openings- Pelican Marsh and Udall natural areas opened this year. The site of the historic Strauss Cabin is now part of Arapaho Bend Natural Area and the ruins of the cabin are open to the public.
• Nurturing Nature- In 2012, grassland restoration was expanded, undiscovered populations of rare plants were documented and nearly all the non-native Russian olive trees were removed from riverside natural areas.
• Sustainable Operations- Solar panels were installed on facilities, inefficient equipment was replaced and staff reduced water, fuel and herbicide (for weed control) consumption.
• Poudre Trail Extension- The City was a partner in a Great Outdoors Colorado grant (lottery proceeds) to fund a new trailhead parking lot at Arapaho Bend and an overpass over I-25, construction will start in 2014.
• 20th Anniversary- It has been two decades since the first citizen-initiated sales tax was passed to fund Natural Areas. A celebration at the Lincoln Center featured Mayor Pro Tem, and longtime conservation advocate, Kelly Ohlson as the keynote speaker.
• Museum Exhibit- The Natural Areas Visitors Center opened in the lobby of the Fort Collins Museum of Discovery including a shortgrass prairie diorama with live black-footed ferrets, an interactive map, video stories from citizens who love natural areas and more.
• Voting With Their Time- In 2012, 1,600 volunteers donated over 13,000 hours saving nearly $300,000. Volunteers assisted with everything from leading educational programs to restoration and trail maintenance projects. Natural Areas outreach activities and events directly reached 14,735 people.
• 2012 Revenues and Expenditures
• Energy by Design- The City worked with partners to plan for mineral exploration and production at Soapstone Prairie Natural Area to direct surface activities away from priority resources.
• Our Lands--Our Future- Citizens gave feedback in a study of regional land conservation, recreation and stewardship. The results will inform the Natural Areas Land Conservation and Stewardship Master Plan.
• River Model- The Natural Areas Department is developing an ecological model of the Poudre River to foster a more informed dialog about current and future conditions.
The report is available on-line at
http://www.fcgov.com/naturalareas/naars.php
. Printed copies will be available soon at natural area trailheads or the Natural Areas Department offices at 1745 Hoffman Mill Road (M-F, 8 a.m.- 5 p.m.)
It's all made possible by Fort Collins and Larimer County voters. Your citizen-initiated sales tax dollars conserve land and provide visitor services such as trails, restrooms and parking lots. Thank you!