Press Releases
Cheyenne Rim Trail at Soapstone Prairie Natural Area Rerouted Ahead of Bison Release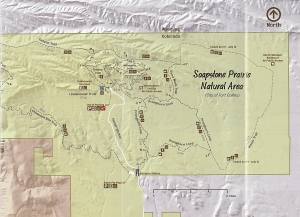 The Cheyenne Rim Trail at Soapstone Prairie Natural Area has a new alignment thanks to the work of 222 volunteers from seven volunteer groups and Natural Areas staff. Volunteers donated 1,411 hours to the project, the equivalent of $32,550 (volunteer time is valued at $23.07/hour, independentsector.org). The new singletrack trail replaces a three-mile section of trail that was eroded and unsustainable. The new alignment also will provide a view of phase two of the bison pasture, expected to be installed in future years. Visitors are invited to try the new trail!
Thank you to the organizations who participated in or supported trail construction:
• National Public Lands Day volunteers
• National Trails Day volunteers
• Colorado Addicted Trailbuilders Society
• REI
• OtterCares Foundation
• Larimer County Conservation Corps
• Backcounty Delicatessen
The trail re-route is part of preparations to bring bison back to their native shortgrass prairie home. Bison will be reintroduced to the City's Soapstone Prairie Natural Area and Larimer County's Red Mountain Open Space on November 1. The herd of ten animals, called the Laramie Foothills Conservation Herd, is unique as it has successfully addressed three key challenges to bison conservation: genetics, disease and habitat. Many bison have interbred with cattle, but the bison of Yellowstone National Park show no signs of cattle genes. While these bison have valuable and unique genetics, they also carry brucellosis, a disease that is devastating to cattle and has largely been eradicated in the United States. Yellowstone bison have not been easily transferred to other areas because of these serious disease concerns. Now, Colorado State University and USDA Animal and Plant Health Inspection Service have a solution. Using assisted reproductive technology, developed for cattle and horses, genetically pure and brucellosis-free embryos are implanted into brucellosis-free (but not necessarily genetically pure) bison mothers. Thus the genetics of the Yellowstone herd are no longer restricted to that area. Bison also require large conserved areas of nearly pristine shortgrass prairie, which the Laramie Foothills Conservation Herd will find at Soapstone Prairie and Red Mountain thanks to the support of local voters who support sales tax ballot measures funding land conservation and stewardship. Everyone is invited to celebrate the reintroduction of bison on Sunday, November 1 with a ceremony, field trip and celebration.
Learn more about Soapstone Prairie Natural Area at
https://www.fcgov.com/naturalareas/finder/soapstone
Learn more about the bison project at
https://www.fcgov.com/naturalareas/bison.php
Voters make natural areas and trails possible by supporting sales taxes which fund land conservation and visitor amenities, thank you!