Press Releases
Fort Collins Police Patrol Cars Get Classic Look
Contact Information
Officer Matt Johnson
Fort Collins Police Services
970-221-6540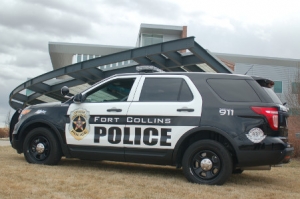 bWpvaG5zb25AZmNnb3YuY29t alt="image for press release Fort Collins Police Patrol Cars Get Classic Look" class="pull-left img-responsive img-thumbnail" style="margin:0 20px 20px 0" /> Patrol Cars Get Classic Look
Fort Collins Police patrol cars are getting a new, or rather, old classic look as existing cars are retired and new patrol vehicles added to the fleet.
Twenty-seven Ford Explorer Police Interceptors have been ordered with two going in to service in mid-April and the remainder slated for delivery in July.
The Interceptors sport a black and white theme. The vehicle's base color is black except for the doors which have been covered in a white 3M-vinyl wrap. The vinyl is more durable than paint.
The new design includes the image of the police badge on the front doors and "Fort Collins Police" lettering running along both sides.
The design was developed in house by officers and "spearheaded" by Officer Mike Crosland in consultation with Action Signs in Fort Collins who is installing the graphics on the new cars.
Black and white patrol cars are making a comeback with Police Departments across the county reverting to the classic color scheme, once a mainstay for agencies in the United States, for a variety of reason. Changing the color scheme:
- increases visibility and recognition. Research conducted in Sunnyvale, CA concluded "black and white police vehicles are more recognizable by the public". The concept of community policing relies heavily on active participation of citizens to help solve community problems. Having street officers maintain high visibility helps build collaborative community relationships.
- increases public safety. More community visibility helps to reduce crime and the fear of crime.
- distinguishes police cars with prominent markings to help allay citizen fears of police impersonators.
- increases the professional image and officer command presence.
- enhances officer safety through improve visibility.
- is cost effective as the agency will be replacing nearly 20% of its fleet in 2013 and will simply order black vehicles instead of white at no additional cost.
During the next few years Fort Collins Police Services will be using both the new black-and-white Interceptors as well as the current white patrol cars until new cars are rotated in and replace the old.
Whether it is community relations, better visibility, or public perception, black and white police cars are reappearing nationwide and the simple tradition of a black and white patrol car is a welcome sight.
## FCPS ##