Ready to Apply for ROOTS 2021?
ROOTS is tentatively scheduled to start late summer and run through the fall in 2021.
Check back for updates!
Lead | Explore | Collaborate | Give Back |Join ROOTS#
In ROOTS Club, youth 14-18 will:
Establish ROOTS in your community
Participate in grass-ROOTS stewardship efforts
Stay true to your ROOTS while branching out with new friends
ROOTS is for all community members aged 14-18. The club is free. Transportation to meeting locations is available and all transportation to and from field trips is provided. Lunch and gear are also provided.
BENEFITS
Take action as part of a youth-driven and youth-directed club
Explore the outdoors and give back with new friends
Network with community organizations making a difference
Challenge yourself with like-minded peers
Stay connected with the City of Fort Collins Natural Areas Department
Build job skills
Free food
Free transportation to field trips
EXPECTATIONS OF ROOTS CLUB MEMBERS
Commit to attending all meetings and field trips, or arranging for an excused absence.
Participate fully to the best of your ability.
Be kind to other club members and follow group-established ground rules.
Sign the City of Fort Collins waiver, parent/guardian signature also required.
ROOTS Club Activities#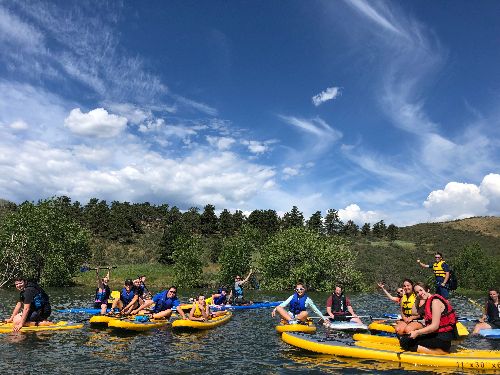 ROOTS is an Environmental Stewardship Club for Teens - this means we work towards the soft skills and hard skills needed to effectively be a steward for your community. We pair recreational activities, such as climbing, paddle boarding and biking with conservation conversations and stewardship action. For example, we partnered with the City of Fort Collins Utilities program to paddleboard at Horsetooth Reservoir. We talked about where our water comes from, what our potential impacts are on water quality, and what we can do about it. Here are some other topic areas we cover:
Self-discovery
Team building
Outdoor exploration
Community engagement
Leadership development
Identify problems and work towards a solution
Hands-on outdoor service projects
Network with natural resource agencies
Taking action!
We strive to have ROOTS Club be youth led - meaning we adapt our programming to meet the needs of the group. ROOTS is in its third year and was designed in response to a growing need for youth engagement in the summer months.
The goal is to grow and develop ROOTS with the help of partnerships, as well as feedback from both parents and youth who participate. Your feedback is welcome! If you are interested in participating or engaging with ROOTS please contact Diane Ernst - dernst@fcgov.com
To ensure a great experience for participants we ask that participants be between the ages of 14 and 18. If you will be 14 in 2020 we are happy to accept you. If you are under 14, please inquire about other opportunities.

We work on engaging with the community and developing soft skills and hard skills in environmental leadership and stewardship. We do this while engaging in recreational activities such as hiking, biking, paddle boarding, and climbing. We also participate in river clean ups, restoration work, trail work, career fairs and family picnics.

Anyone within Larimer County is invited to apply.

Physical activities such as biking, biking and climbing are part of ROOTS Club. But we are more than happy to accommodate the physical abilities of anyone that wishes to join ROOTS. Please contact the group leader with any questions or concerns, Laura Fritz, (970) 416-2043, lfritz@fcgov.com

No, you do not need any outdoor experience! People from all backgrounds and experiences are welcome.

Transportation from the club location to all activities is provided. If transportation to the club location is needed, please contact the group leader.