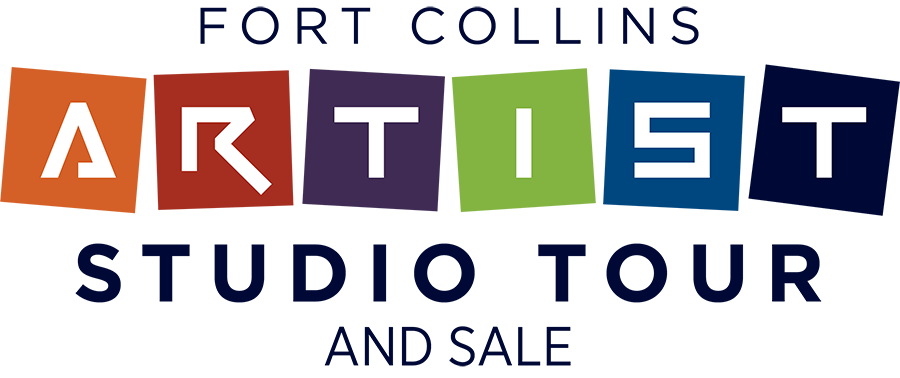 ABOUT THE TOUR
Presented by the City of Fort Collins' Cultural Services Department, the Fort Collins Artist Studio Tour and Sale is a free self-guided tour of local artist studios revealing the mysteries of the creative process to families and individuals in and around Fort Collins. Through art demonstrations and educational displays right in the artists' studios, visitors will meet the artists personally, buy original artworks, and learn about how and where artists create pottery, jewelry, photography, painting, sculpture, fiber arts, and more! The included artists reflect the amazing, creative talent right in our own community.
The Studio Tour is open to Fort Collins area artists who are making original artworks at a professional level in diverse media. Qualified artists will create artwork that:

shows a technical proficiency in handling the medium, with aesthetic ability in composition and design
reflects a unique style, personal vision, and consistency for the body of work presented, and
is of original design and manufacture —no kits or other mass-produced products are allowed.

The Visual Arts Staff will consider the above criteria in determining eligibility for the studio tour. Only artists whose work meets the above qualifications, as determined by Staff, may participate. There is no limit to the number of artists accepted. Decisions of the Visual Arts Staff are final.

Studios with a Fort Collins, Bellvue, or Laporte address and zip code, or within the following boundary roads will have the highest traffic: County Road 5 on the East, County Road 30 on the South, Highway 1 on the North, and Lory State Park/Horsetooth Mountain Park/Roosevelt National Forest on the West. Artists with studios outside of this boundary area may apply, but locations outside this area may have diminished traffic during the weekend event.

Thank you to the Jason and Lucy Greer Foundation for the Arts for again sponsoring reduced registration fees for 2023!

Participation fee is due with your application. Get a Studio Sponsor and receive up to $175 refund on your participation fee! See below for information.

There are 3 levels of participation depending on the number of artists participating in a single studio or on the recognition in the brochure.

Individual Artist/Collaborative: $125 (Regularly $175)#

An Individual Brochure Listing is for the individual artist producing their own work in a studio space, or artists sharing a studio space and producing objects that are 100% collaborative.
An Individual Brochure Listing receives one image in the brochure, with the Individual Artist or studio name and contact information. An artist participating in a group studio may select this level if they wish to have a separate image of their work with their name and contact information featured in the brochure.
With an Individual Brochure Listing the artist may display one artwork of their choosing (limited to 36" in width) in the Preview Exhibition, October 14–22, at the Lincoln Center Art Gallery.
All "Requirements for Participation" apply to the Artist.

Small Group (2 artists sharing 1 location): $225 (Regularly $300)#

A Small Group Studio Listing consists of 2 artists sharing a studio location and producing individual artworks. Both artists must be present all hours during the Studio Tour Weekend and provide an environment that allows the visitor to experience the Artists' creative process.
The Small Group Studio should submit a single application form, with image(s) from each of the participating artists in the studio.
The Small Group Studio receives one image in the brochure with a list of the participating artists and their contact information (studio address, websites, and emails).
Each artist in a Small Group Studio can exhibit one work of their choosing (limited to 36" in width) in the Preview Exhibition, October 14–22, at the Lincoln Center Art Gallery.
All "Requirements for Participation" apply to all artists participating in the studio.

Large Group or Co-op Studio: $375 (Regularly $500)#

A Large Group or Co-op Studio Listing is for multiple artists sharing a communal facility or workspace to create and sell original artwork. Before applying, a studio representative should contact Liz Good at lgood@fcgov.com, regarding their intent to participate as a Group Studio. The Group Studio should submit a single application form, with up to 5 images from participating artists in the studio.
The studio receives one image in the brochure with the facility name and facility contact information (address, website, and email). The Studio must be open during all hours of the Studio Tour weekend.
There will be limited exhibition space for a group display in the Preview Exhibition, October 14-22, at The Lincoln Center Art Gallery. The Group Studio representative should contact Liz Good at lgood@fcgov.com to discuss the space available. It is not guaranteed that all artists will be included in the Group Studio display.
"Requirements for Participation" apply to all artists participating as part of the Group or Co-op Studio.

Studio Tour Artists may secure a Studio Sponsor and have their participation fee waived. Studio Sponsors pay $275 from which $175 of the artist's or studio's participation fee will be deducted. Remaining proceeds will support the cost of presenting the Studio Tour in exchange for promotional benefits through the event. Artists who pay their participation fee and later secure a Studio Sponsor will have their participation fee refunded upon receipt of payment from the sponsor. Personalize our sample sponsor letter or compose one of your own to business owners with whom you have a working relationship. Give them the Sponsor Agreement Form to complete and return with their payment by August 1.

*If you secure a Studio Sponsor, you will not receive the Jason Sheppard Greer and Lucy Kim Greer Foundation for the Arts support for your participation fee*

Download the Sample Sponsor Letter and Sponsor Agreement Form.

The application requires artists to submit images for use in the brochure. The Studio Tour Brochure is digital with limited printed maps available.

Returning individual or group studio artists need only submit 1 image for the brochure. Returning Group and Co-Op Studios may submit a combined image for the brochure. New Group and Co-op Studios can submit a combined image for the brochure once accepted.
New Individual Studios: Please upload 3 images.
New Group Studios: Please upload 4 images total (2 by each artist in small group studios or four images from different artist in large group studios.)

Please use the following guidelines:

Images must be horizontal JPG or PNG files, 150 dpi or greater, 1920 pixels on the longest side, no larger than 3MB.
Label your image files as follows: Last Name_Title.jpg (or .png).
Each image should show a single work of art, unless part of a set (as in jewelry or a ceramic tea set, etc.).
Artworks should be completed since October 2021 and be representative of artworks that will be on view at your studio during the Studio Tour.

Images may also be used for promotion, and educational purposes

Artists may also submit high resolution images of their studios for promotion and educational purposes. Please use the same label protocol and upload studio images as directed in application.

Only artists who are deemed eligible by the Visual Arts Staff will appear in the brochure and receive official signage designating their studio as part of the Studio Tour. The Visual Arts Staff has the right to refuse participation to any artist who does not meet the Requirements for Participation of the event. The decisions of the Visual Arts Staff are final.
Complete application forms, images and fees must be received by Monday, July 17.
Artists are strongly encouraged to participate in their actual regular studio space. Temporary or guest studio set-ups must be approved by Visual Arts Staff and are strongly discouraged. Our goal is to produce an authentic tour of working artists' studios that offers a specific cultural experience for the community (See #4).
In addition to talking to visitors about their creative process, Studio Tour Artists must provide an educational experience to visitors by scheduling a demonstration of their artistic process or displaying information about the processes, tools, materials, and techniques of their work. Artists in temporary studios must provide a re-creation of their working studio environment.
Artists must be present in their studio and available to meet the public during all Studio Tour hours on Saturday and Sunday, October 21 and 22. Occasional breaks during the weekend are acceptable, however, the studio must remain open to the public. Having a studio assistant available to provide you with breaks and help with sales is strongly recommended.
Artists must be aware of parking restrictions around their studio and plan accordingly. If you need to make special arrangements with City of Fort Collins Parking Services, contact 970-221-6617; parkingservices@fcgov.com.
Artists should keep in mind the family nature of this community event and provide signage notifying visitors of the presence of artworks with nudity or mature content. Serving alcohol or other intoxicants during the event hours without a liquor license is prohibited and could put you at significant legal risk.
Accepted artists must have the required City, State, and County sales tax licenses and must collect and pay all required sales taxes. More information is available at the following numbers: CO Department of Revenue (303) 866-5643 and Fort Collins City Sales Tax Office (970) 221-6780; salestax@fcgov.com.
Artists must complete an online survey distributed after the Studio Tour weekend and will be asked to share general sales information with the Visual Arts Staff for the sole purpose of promoting future Fort Collins Studio Tour events. Specific studio sales information will not be shared with other persons or organizations.

Questions about participation fees or studio qualifications should be directed to Liz Good at lgood@fcgov.com.

The City of Fort Collins reserves the right to cancel the event. If the event is CANCELED by the City, participants will receive a full refund.

Artists who withdraw their application before the July 17, 2023, deadline will receive a full refund.
Artists who withdraw their application after the July 17, 2023, deadline will be transferred to an online virtual Studio Tour listing. No refund will be offered.
A special thanks
to

our 2023 event sponsors!#
SPONSORSHIP OPPORTUNITIES#
We are eager to work with you to build a partnership that works best for your business. Please contact us if you would like to learn about sponsorship opportunities and benefits.