River Projects
The City of Fort Collins has many projects along the Cache La Poudre River that will cause trail closures and construction in 2014 and beyond. These projects will ultimately create a healthier river environment and benefit the community. Learn more below.
Trail Closures Along the Poudre River Corridor: Aug 21, 2015
Status
Trail
Poudre Trail view closure details

AS OF JUNE 30:


The Poudre Trail is now OPEN from Lions' Open Space to the Environmental Learning Center.

Access to / from the trail at Shields St. is restricted due to road closure / construction.

The underpass at Mulberry St. is closed until late fall 2015 due to construction. Trail users will be required to cross Mulberry St. and Lemay Ave. at the street level crosswalks until construction is completed.
North Shields Ponds :
Neighborhood access only as Shields Street is closed for construction until the end of August.
Riverbend Ponds :
Now through Friday, August 28, portions of Riverbend Ponds will be closed as Boxelder Sanitation works on sanitary sewer lines that cross the natural area. Caution, trail construction will be happening near the north parking lot off Cairns Drive Wednesday, August 26- Friday, Sept 4.
Running Deer :
Minor trail closures are expected in early September as Boxelder Sanitation works on sanitary sewer lines that cross the natural area.
All other trails are open! Enjoy your river corridor!
Reconnecting the River with its Floodplain
Ecological restoration work at McMurry and North Shields Ponds natural areas has removed unnatural debris from the riverbank, physically lowered them and transformed the landscape with native shrubs, and trees. The physical lowering of the riverbank permited higher river flows to safely spill onto adjacent low-lying areas within the natural areas. This has revitalized and invigorated the natural and historic interaction between the river and its floodplain. The abandoned Ames diversion structure has been removed in order to permit fish passage, reduce downstream "dry-up", and improve river-based recreation such as fishing and floating.
Breweries, Colorado Water Trust Partner to Support City's Poudre River Restoration
The Cache la Poudre River has been called the heart of Fort Collins, and the City of Fort Collins has been focusing on improving the river's health. A healthyworking river is also key for another Fort Collins staple…beer! Local breweries and the Colorado Water Trust came together to support a restoration project and the removal of the Josh Ames Diversion Dam at North Shields Ponds Natural Area. In addition to a $300,000 grant from Colorado Water Trust, Odell Brewing Company, New Belgium Brewing Company, Pateros Creek Brewery, and Funkwerks Brewery contributed nearly $37,000 in matching dollars. See a 3 minute video about the project.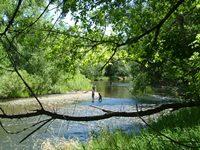 The Cache la Poudre River is a centrally important part of Fort Collins so the City has many initiatives underway to support the vitality of the river ecosystem. The City of Fort Collins Natural Areas Department and Utilities are collaborating on an assessment tool for supporting and sustaining the health of the Poudre River. The River Health Assessment Framework articulates the City's vision for a healthy and resilient river by setting recommended ranges and an A-F grading system for the key physical, chemical and biological indicators of the river. The Framework will be used to create a State of the River Report in 2016 and to evaluate the river health impacts of internal and external projects.
The Ecological Response Model (ERM) was initiated by the City of Fort Collins Natural Areas Department in collaboration with a team of nine scientists to better understand past, present and potential future conditions of the Poudre River through Fort Collins. This effort supports a community-driven quest to manage for an ecologically healthy and resilient Poudre River. Learn more >>>
The City of Fort Collins has developed a master plan for the Cache la Poudre River in the downtown corridor (Shields Street to Mulberry Street) to improve in-river and bankside recreation, habitat connectivity, restoration and rehabilitation, bank protection, flood mitigation and floodplain management, water quality, public safety and access, and transportation. Learn more >>>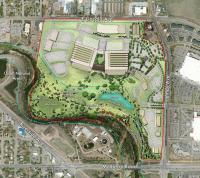 Fort Collins-based Woodward is building a legacy headquarters and manufacturing campus on the former Link-N-Greens golf course between Lincoln and Mulberry avenues west of Lemay Avenue. The company plans to invest $169 million in the project, including $23.5 million in public assistance. Woodward conveyed 31 acres to the City as part of the agreement, Homestead Natural Area. The campus is expected to employ 1,400 people. Learn more at fcgov.com/woodward.
There are 66 streamflow and precipitation gages in Fort Collins to keep residents informed. You can view real-time data about your area and across the community. Learn more >>>
Water Supply and Storage
Learn about proposed or under construction developments along the Poudre River and key information about the Poudre River Buffer Standards contained in the City of Fort Collins Land Use Code.
The River District Design Standards project will identify, evaluate and implement measures to achieve high quality design and preserve/promote the unique character of the River District's built environment.
The Natural Areas Department is sponsoring or collaborating on many projects along the Cache la Poudre River. This brochure highlights challenges and opportunities, the department's goals and describes 7 projects.This brochure will be updated in 2015.