River Projects
The City of Fort Collins has many projects along the Cache La Poudre River that will cause trail closures and construction in 2014 and beyond. These projects will ultimately create a healthier river environment and benefit the community. Learn more below.
Trail Closures Along the Poudre River Corridor: Dec 22, 2014
Status
Trail
Poudre Trail view closure details

Update Dec 22: Tree Removal project along the Poudre Trail at the SE corner of the Lemay bridge will be starting on Mon, Dec 22 thru Tue, Dec 23. The trail in this area will be open with flaggers posted on either side of the work zone to temporarily stop trail users if necessary for safety.

In addition, Walsh plans to begin trail construction at the SW corner of Mulberry and Lemay during the week of December 29, 2014. Dump trucks and Concrete trucks will be driving over the walk at this corner to access the trail. Walsh will have flaggers on site to facilitate this work, again focusing on keeping trail/walk users safe from the heavy vehicles entering the work zone.

Update Dec 9: POUDRE TRAIL CONSTRUCTION IMPACTS – WINTER 2014 / SPRING 2015

*Attention Poudre Trail users* please be aware of multiple upcoming construction projects along the Poudre Trail that will impact trail users. Work is being performed to re-stabilize river banks related to flood erosion and also planned trail improvements. Work is expected along the Poudre Trail in the following locations: Between Taft Hill Road and Lee Martinez Park; The Confluence of the Poudre Trail and Spring Creek Trail; East of College Avenue at the BNSF Railroad bridge; and Mulberry / Lemay Avenue underpass and access ramps. Work is expected to be complete at all locations by mid-July 2015. Trail detours will be posted, and updates available through the Trails web page. Trail users can also sign up on the web page to receive trail notifications through email.

Poudre Trail at Shields St.
-Currently closed through mid-July 2015
-Poudre Trail closed between Lee Martinez Park and Taft Hill Rd
-Closure due to Utility construction, bridge replacement, trail underpass re-alignment, area improvements
-Detour route utilizes North Taft Hill Rd., West Vine Ave., Wood St., Elm St. and Lee Martinez Park
-Work includes both City and County Engineering projects

Poudre Trail at Wood St.
-Work is concurrent with existing trail closure between Lee Martinez Park and Taft Hill Rd.
-Work needed due to replacement of river bank stabilization material
-Work expected mid-December to mid-February
-City Stormwater Utility project

Poudre Trail at Confluence of Spring Creek Trail
-Work is expected to begin in about 1 month
-Poudre Trail closure between Timberline Avenue and Prospect Road
-Spring Creek Closure between Prospect Avenue and Poudre Trail
-Work needed due to replacement of river bank stabilization material
-Work is expected to last for 2 weeks
-City Stormwater Utility project

Poudre Trail East of College Ave at BNSF Railroad Trestle
-Work is expected to begin in about 1 month
-Poudre Trail closure between College Avenue and Linden St.
-Work needed due to replacement of river bank stabilization material
-Work is expected to last for 2 weeks
-City Stormwater Utility project

Poudre Trail at Mulberry / Lemay Ave.
-Work expected to impact trail users mid February 2015 – June 2015
-Poudre Trail access ramps from Lemay impacted – no set date on closures / detours yet
-Work needed due to pedestrian bridge installation, stormwater river bank grading
-Park Planning and City Stormwater Utility projects (separate projects, working to coordinate).

Poudre Trail at Fossil Creek Ditch (Environmental Learning Center)
-Work may begin before Jan 1, 2015 (currently out to bid for construction contractors)
-Work is dependent on Poudre River flow, may not happen until late next year
-Poudre Trail closure between Prospect Rd. and Environmental Learning Center
-Work is needed to rebuild head-gate / river weir for Fossil Creek Ditch
-Fossil Creek Ditch Company project

Updated Nov 26: The Poudre Trail will be closed from Tafthill Road east to Lee Martinez Park from December 1, 2014 through January 5, 2015 (weather permitting) for the North Shields Street Sewer Project. Please obey the barricades and follow the detours as they are in place for your safety.

In addition, the McMurry Natural Area Traill will be closed at Shields.

Updated September 26: The underpass at Mulberry Ave. along the Poudre Trail will be closed periodically due to the Mulberry Bridge replacement project. Trail users will be directed to detour to the intersection of Lemay and Mulberry, utilizing the crosswalks and bike lanes to return access to the Poudre Trail.

Safety fencing along the trail is in place due to the construction activity in the vicinity of Mulberry and Lemay for the Mulberry bridge replacement project. Please use caution while traveling the Poudre Trail in this area.

As always, please use caution and be prepared to use alternate routes and obey all barricades and detours along the Poudre Trail as they are in place for your safety.
Cattail Chorus :
The Poudre Trail between Timberline and Prospect will be closed until February for riverbank stabilization. The Spring Creek Trail will be closed between Prospect and the Poudre Trail junction.
Gustav Swanson :
The Poudre Trail will be closed between College and Linden for riverbank stabilization by Fort Collins Utilities. Work will begin in early January and is expected to last for two weeks.
Riverbend Ponds :
The boardwalk near the Cherly Street entrance will be reconstructed, so that segment of trail will be closed from January 5 to July 2015. Please use alternate trails and access points during the project.
Springer :
The Poudre Trail at Lemay will be closed from late December to June 2015 for work to install new pedestrian bridges and riverbank grading.
All other trails are open! Enjoy your river corridor!
Trail Closures Ahead
The City is committed to minimizing trail closures caused by Poudre River Projects, however some closures are unavoidable. Here is a summary of upcoming Poudre Trail closures:
Fall/Winter 2014
The Poudre Trail will be closed just upstream of the north end of Wood Street for rip rap repair. The trail will be closed for about 1 month in the fall. A detour will be provided.
The Poudre Trail underpass under Shields Street will be closed while the Shields Street bridge is replaced. The detour will use Taft Hill Rd to Vine Drive then east to Wood St, to Elm St and to The Farm and the Poudre Trail. Larimer County will begin this project in late 2014.
The City of Fort Collins has developed a draft master plan for the Cache la Poudre River in the downtown corridor (Shields Street to Mulberry Street) to improve in-river and bankside recreation, habitat connectivity, restoration and rehabilitation, bank protection, flood mitigation and floodplain management, water quality, public safety and access, and transportation. Learn more >>>
Breweries, Colorado Water Trust Partner to Support City's Poudre River Restoration
The Cache la Poudre River has been called the heart of Fort Collins, and the City of Fort Collins has been focusing on improving the river's health. A healthyworking river is also key for another Fort Collins staple…beer! Local breweries and the Colorado Water Trust have come together to support a restoration project and the removal of the Josh Ames Diversion Dam at North Shields Ponds Natural Area. In addition to a $300,000 grant from Colorado Water Trust, Odell Brewing Company, New Belgium Brewing Company, Pateros Creek Brewery, and Funkwerks Brewery contributed nearly $37,000 in matching dollars.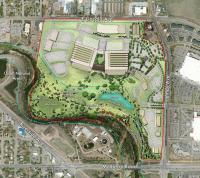 Fort Collins-based Woodward is building a legacy headquarters and manufacturing campus on the former Link-N-Greens golf course between Lincoln and Mulberry avenues west of Lemay Avenue. The company plans to invest $169 million in the project, including $23.5 million in public assistance. Woodward also has donated 31 acres for Natural Areas and habitat restoration. The campus is expected to employ 1,400 people. Learn more at fcgov.com/woodward.
The Natural Areas Department is sponsoring or collaborating on many projects along the Cache la Poudre River. This brochure highlights challenges and opportunities, the department's goals and describes 7 projects.
There are 66 streamflow and precipitation gages in Fort Collins to keep residents informed. You can view real-time data about your area and across the community. Learn more >>>
This poster includes information about:
- Water Quality Monitoring
- Collaborative Fire Studies
- Early Warning System
- Fire Effects Mitigation
Contact Jill Oropeza, City of Fort Collins Water Resources & Treatment Services to learn more,
Water Supply and Storage
Ecological restoration work at McMurry and North Shields Ponds natural areas has removed unnatural debris from the riverbank, physically lower them and transformed the landscape with native shrubs, and trees. The physical lowering of the riverbank permited higher river flows to safely spill onto adjacent low-lying areas within the natural areas. This has revitalized and invigorated the natural and historic interaction between the river and its floodplain. The abandoned Ames diversion structure has been removed in order to permit fish passage, reduce downstream "dry-up", and improve river-based recreation such as fishing and floating.
Learn about proposed or under construction developments along the Poudre River and key information about the Poudre River Buffer Standards contained in the City of Fort Collins Land Use Code.
The River District Design Standards project will identify, evaluate and implement measures to achieve high quality design and preserve/promote the unique character of the River District's built environment.
Arapaho Bend Trailhead
Arapaho Bend Natural Area, already a popular fishing and birding site, is on its way to becoming the eastern gateway to the Poudre Trail. There will be a new parking lot, a segment of concrete trail, and an I-25 pedestrian overpass linking Timnath's trail to the Fort Collins trail system.
The Natural Areas Department is improving understanding of the urban stretch of the Poudre River by creating an interdisciplinary ecological model. The Ecological Response Model (ERM) is based on a wealth of expert scientific knowledge combined with local data. Preliminary results indicate that current flows, which reflect withdrawals for municipal and agricultural uses, are approaching the low end of flow thresholds that matter for scouring algae and for aquatic habitat and channel maintenance. The ERM will foster a more informed dialog with a broad audience of stakeholders about the current and anticipated use and condition of the river. Learn more >>>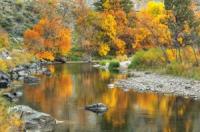 Go With the Flow
The Cache La Poudre is, in part, a "working river" and it delivers water to thirsty communities and agriculture. Unfortunately, aquatic life is challenged by dry-up points and rapid changes in flows due to water delivery practices. The City of Fort Collins Natural Areas Department is working to identify management options that reduce or eliminate low flows as well as moderate flow volatility while still providing water- the life blood of communities and agriculture.