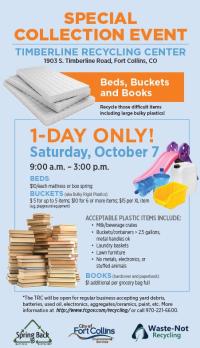 Beds, Buckets, & Books - Oh My! The City's next special collection event will be held Saturday, October 7th from 9 a.m. - 3 p.m. in the Hard to Recycle Materials Yard at the Timberline Recycling Center (1903 S. Timberline Road). There is a $5 entry fee per vehicle, per entry, along with additional recycling fees for certain items.
The Following Items will be Accepted:
Mattresses & Box Springs (any size) - $10 per item
Books (hardcover or paperback) - $1 per grocery bag full
Buckets (aka Bulky Rigid Plastics)* - $5 for up to 5 items, $10 for 6 or more items, $15 per XL item (e.g. playground equipment).
Acceptable Plastic Items Include:
Milk/beverage crates
Buckets/containers > 2.5 gallons (metal handles are ok)
Laundry baskets
Lawn furniture
Toys (NO metals, electronics, or stuffed animals - must be plastic)
*Bulky/rigid plastic items are a unique type of item that is being piloted for collection during the event. While every effort will be made to recycle as much of this material brought as possible, our recycling processor may later find that some items are not recyclable, which will then unfortunately have to be sent to the landfill.
For questions please call 970-221-6600. During the event the Timberline Recycling Center will be open for regular business, accepting yard debris, batteries, used oil, electronics, aggregates, paint, and more.