Mulberry Pool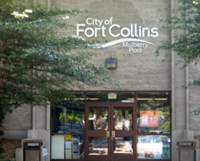 424 West Mulberry
PH: (970) 221-6657

Mulberry Pool, located near Downtown Fort Collins, is one of three indoor aquatic facilities operated by the City of Fort Collins Recreation Department. The pool is open year-round and includes a large "child friendly" interactive play area with slides and other fun water features. Mulberry Pool is a favorite for birthday parties and other celebrations. The pool is also popular with lap swimmers looking for an early morning or mid-day workout.
Features:
Indoor 25-yard pool
1-meter diving board
Large shallow interactive play area
Separate 7-person spa
Birthday party room
Spectator seating
Zero entry pool
Mulberry Pool Locker Rooms Switched on Saturday
Due to a maintenance issue, the locker rooms at Mulberry Pool will be switched on Saturday, August 30th, so that crews can continue to fix the problem. Women will be using the Men's locker room and men will be using the Women's locker room.
Alternatively, the Family Change room and the upstairs bathrooms will be available to patrons.
We apologize for the inconvenience.
Mulberry Pool Closed August 31, September 1
Mulberry Pool will be closed on Sunday, August 31 and Monday, September 1 (Labor Day) for annual maintenance. We will re-open for regular hours on Tuesday, September 2nd.
Please visit City Park Pool, instead, for the last days of summer!
MULBERRY POOL HOURS
Mulberry Pool is OPEN for your swimming pleasure.

Check us out during our open hours.

Monday,Wednesday,Friday 5:30 AM - 8:00 PM
Tuesday, Thursday 5:30 AM - 4:00 PM
Saturday 12:30 PM - 5:30 PM
Sunday Noon - 3:00 PM

See you at the pool!
Two Buck Sundays
Enjoy a throw back in admission costs on Sunday from Noon to 3:00 PM at $2.00. This special price is per person and available to any age. Enjoy some fun-soaked Sundays at Mulberry Pool!
Fitness Room Undergoing a Remodel
The Mulberry Fitness room has been moved to our newly remodeled upstairs space in order to give you more room and new equipment to work out with! Some changes are still in the process of being completed, but the room is open for use.
While your child is in lessons or visiting Mulberry Pool for a birthday party, you can work out in our aerobics room overlooking the pool where there is a treadmill. The room is open during recreational swim hours as well as on Saturday mornings during lessons.

$2.00 per 30-minute session.
Children under 8 years of age must be accompanied by a responsible adult in the pool. The adult must pay admission, be wearing a swimsuit and actively participating (within arm's reach) with the child.
Space for birthday parties will not be allowed in the lobby or spectator area at Mulberry Pool. Space is available for a fee for refreshments and present opening. Please contact Mulberry Pool for more information.