Mulberry Pool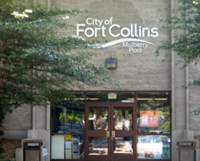 424 West Mulberry
PH: (970) 221-6657

Mulberry Pool, located near Downtown Fort Collins, is one of three indoor aquatic facilities operated by the City of Fort Collins Recreation Department. The pool is open year-round and includes a large "child friendly" interactive play area with slides and other fun water features. Mulberry Pool is a favorite for birthday parties and other celebrations. The pool is also popular with lap swimmers looking for an early morning or mid-day workout.
Features:
Indoor 25-yard pool
1-meter diving board
Large shallow interactive play area
Separate 7-person spa
Birthday party room
Spectator seating
Zero entry pool
Mulberry Pool Closed August 17-23 and September 7
Mulberry Pool will be closed for maintenance August 17-23, and on September 7 in observation of Labor Day.
Mulberry Pool Diving Board Closed
Due to a maintenance issue the diving board at Mulberry Pool will be closed until further notice, sorry for the inconvenience.
MULBERRY POOL HOURS
Mulberry Pool is OPEN for your swimming pleasure.

Check us out during our open hours.

Monday,Wednesday,Friday 5:30 AM - 8:00 PM
Tuesday, Thursday 5:30 AM - 4:00 PM
Saturday 12:30 PM - 5:30 PM
Sunday Noon - 3:00 PM

See you at the pool!
Looking for a great summer job or a challenging career? Being an American Red Cross Lifeguard or Swim Instructor is the best place to start!
Children under 8 years of age must be accompanied by a responsible adult in the pool. The adult must pay admission, be wearing a swimsuit and actively participating (within arm's reach) with the child.
Space for birthday parties will not be allowed in the lobby or spectator area at Mulberry Pool. Space is available for a fee for refreshments and present opening. Please contact Mulberry Pool for more information.