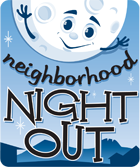 Neighborhood Night Out Registration
Neighborhood Night Out - August 5, 2014
Registration is due by July 18, 2014.
PLEASE NOTE
By registering your event it will be included on maps distributed to PFA, Police Services, and City Council.
Neighborhood Services cannot guarantee a visit to your event by a police office, fire truck, or Council Member.
Goodie bags are one per event and we cannot provide enough materials for everyone at your event.