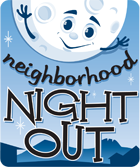 Neighborhood Night Out
August 4, 2015
Neighborhood Night Out (NNO) is an annual, nationwide event falling on the first Tuesday in August. The night is geared towards community building and safety. In Fort Collins, Neighborhood Services encourages neighbors to get together for events large and small. By registering with us, you will receive a goodie-bag with useful items for the event, the host will receive a free t-shirt and your event will be added to a map of all NNO events. This map is given to police, fire, and City Councilmembers for potential visits.
Please register by july 14, 2015
Registration forms are due to Neighborhood Services by July 14, 2015. We encourage you to register your event online, using the link in the grey box! If you have difficulty using the online registration system, please contact Neighborhood Services at 970-224-6046, and someone will assist you with the registration.
Don't forget: Neighborhood Services offers grant funding for Neighborhood Night Out Events. Applications are due by July 16. Visit our grants page for more information, application, and required W-9 form.
Goodie bags will be available to pick up July 30 through August 3, at Neighborhood Services, 281 N. College Avenue, 8 am–5 pm for all neighborhoods who have registered their events by July 14, 2015.
If you are unable to register your Neighborhood Night Out Event online, please call our Neighborhood Services at 970-224-6046 for assistance
Downloads
How to Plan YOUR Event
Talk to a few other neighbors so you have some help. As with planning any event, the more the merrier!

Decide what kind of event you want to have: a block party, cookout or potluck, ice cream social, or bike parade.

Pick a time and a place. The most common choice is someone's yard or a nearby park. Remember, if you want to block off any public street you will need to complete a special event permit.

Think about applying for a neighborhood grant to offset costs. Visit our grants page for applications and more info.

Spread the word. Let your neighbors know what is planned. If you need help with the flyer/invite, check out our Word template. You can make free copies of your flyers and invites at Neighborhood Services.

Depending on what your event is, encourage neighbors to bring something: lawn chairs, potluck items, BBQ grills, ice cream toppings, and their own plates, cups, bowls and utensils (to avoid disposables and creating a lot of trash).

Other ideas for you. If you have a neighborhood fire station, invite them directly. Try creating a "contact map" of the neighborhood so everyone has emergency numbers for each household.

If you plan to use your neighborhood park for your event, please complete a park use form and fax it to Parks at 970-221-6849.