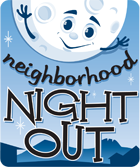 Neighborhood Night Out
August 6, 2013
Neighborhood Night Out (NNO) is an annual, nationwide event falling on the first Tuesday in August. The night is geared towards community building and safety. In Fort Collins, Neighborhood Services encourages neighbors to get together for events large and small. By registering with us, you will receive a goodie bag and your event will be added to a map of all NNO events. This map is given to police, fire, and City Councilmembers for potential visits.
Please register by july 23, 2013
Registration forms are due to Neighborhood Services by July 23, 2013. You may now register your event online! If you are unable to apply online and need a hard copy of the registration form please contact Neighborhood Services at 970-224-6046, or you may download the application from this page and fax it to 970-224-6050, email to , or mail to: Neighborhood Services, 281 North College Avenue, Fort Collins, CO 80524.
If you need a paper copy of the application, please contact Neighborhood Services at 970-224-6046.
Downloads
How to Plan YOUR Event
Talk to a few other neighbors so you have some help.

As with planning any event, the more the merrier!

Decide what kind of event you want to have:

block party
cookout or potluck
ice cream social
bike parade

Pick a time and a place.

someone's yard
nearby park
Remember, if you want to block off any public street you will need to complete a Special Event Permit

Register your event with Neighborhood Services.

Form is available here and due by July 23.

Think about applying for a Neighborhood Grant to offset costs.
Spread the word.

Let your neighbors know what is planned
If you need help with the flyer/invite, check out our Word template
You can make free copies of your flyers and invites at Neighborhood Services

Depending on what your event is, encourage neighbors to bring something:

lawn chairs
potluck items
BBQ grills
ice cream toppings
their own plates, cups, bowls and utensils (to avoid disposables and creating a lot of trash)

Other ideas

if you have a neighborhood fire station, invite them directly
Create a "contact map" of the neighborhood so everyone has emergency numbers for each household

If you plan to use your neighborhood park for your Night Out, please complete a Park Use Form and fax it to Parks at 970-221-6849.