Natural Areas
Current Features
Free Upcoming Activities
Hike to a Homestead, Saturday, May 18, 9 a.m.-2 p.m., Soapstone Prairie Natural Area, meet at south parking lot. Learn about the early history of the settlers who braved this harsh landscape. Visit several homestead ruins and hear stories about the families who lived here. Bring plenty of water, lunch, snacks, and sun protection. 6 miles, moderate-strenuous. Free, REGISTRATION REQUIRED at naturetracker.fcgov.com .
Find Your Way with Map and Compass, Saturday, May 18, 9:00-10:30 a.m., Pineridge Natural Area, meet at the Dixon Reservoir parking lot, off CR 42C.Be confident when exploring the outdoors—learn and practice map and compass skills. Instruction and exercises will provide hands-on experience. Bring a good compass if you have one—compasses will also be available to borrow during the class. Free, no registration required.
Morning on the Prairie, Sunday, May 19, 9 a.m.-noon, Coyote Ridge Natural Area, meet in the parking lot. Discover the wide variety of wildlife at Coyote Ridge, including prairie dogs, rattlesnakes, coyotes, burrowing owls and more, and appreciate the amazing landscape and geology of this natural area. All ages are welcome. 2.5 miles, easy. Free, no registration required.
Tracks & Trails is Here!
Over 200 free events, activities and classes are available for you, May-October! Use Tracks & Trails, a handy booklet, to learn about them all.
New this year, registration will be through NatureTracker, an easy way to track down fun and keep track of your activities (available May 10 at NatureTracker.fcgov.com). Also in Tracks & Trails you'll find a new Junior Naturalist program, the Natural Areas Passport, activities at the Fort Collins Museum of Discovery and much more. The pdf version is available now, printed copies will be available in May at Natural Area trailheads, the Natural Areas Department office (1745 Hoffman Mill Road, M-F, 8-5), and local businesses.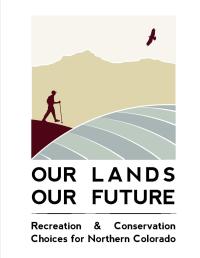 The City of Fort Collins Natural Areas Department is partnering with Larimer County and the muncipalities within it to study past achievements, opportunities and possible gaps in our region's land conservation, open space, and outdoor recreation programs. Learn more about Our Lands-Our Future at, http://www.larimer.org/ourlands_ourfuture/
Celebrate 20 years of natural areas with the new Passport to the Natural Areas! It is a checklist of natural areas to visit and free activities. Complete your passport (pdf) or online version for a prize and to be entered into a drawing for a backpack full of outdoor supplies. Printed passports are also available at natural area trailheads, the Fort Collins Museum of Discovery and the Natural Areas Department office (1745 Hoffman Mill Road, Mon.-Fri., 8 a.m.-5 p.m.).
It has been two decades since the first citizen-initated sales tax that funds natural areas. Everyone is invited to help celebrate the 20th anniversary by participating in free activities. Join the fun!
May- October -A special edition of Tracks & Trails (Your Guide to Free Natural Areas Events and Activities) is released. It includes the passport and a new junior naturalist booklet! It is going be an outstanding season for outdoor fun, service and learning!
November-The year of celebration wraps up with a look forward to the next 20 years of natural areas.
Natural Areas
Physical Address: 1745 Hoffman Mill Road, Fort Collins, CO 80524
Mailing Address: PO Box 580, Ft. Collins, CO 80522-0580
Phone: (970) 416-2815
Fax: (970) 416-2211
Email: naturalareas@fcgov.com
Normal Business Hours: 8AM-5PM M-F
Directions: From Lemay (the part of Lemay between Riverside and Mulberry), turn east onto Poudre River Drive. Follow Poudre River Drive as it curves, changes names to Hoffman Mill Road and eventually dead-ends at Nix Natural Area and the Natural Areas Department's offices.