Classes & Presentations

The City of Fort Collins collaborates with the Bicycle and Pedestrian Education Coalition (BPEC) to offer bicycle and pedestrian safety education presentations for kids, families, businesses and senior groups. The BPEC, through education and encouragement, works to reduce the number of motor vehicle/bicycle/pedestrian crashes in our community, and increase knowledge and awareness about how to safely share roads. The BPEC works to increase the number of bicycle riders and pedestrians in the community, nurturing health and wellness. Visit their website at bpeclarimer.org.
Below are several images which illustrate safe bicycle riding. To schedule a bicycle safety presentation, please email
Do you want to know more about your bicycle? Do you want to improve your ability to use a bicycle with confidence and competence for pleasure, utility and sport under various highway, climate, terrain and traffic conditions? Then take a look at the League of American Bicyclists Smart Cycling manual here.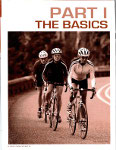 The Basics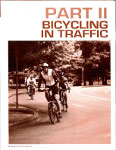 Bicycling in Traffic

Enjoying the Ride
Safety Classes
Join us for a bicycle safety class:
Traffic Skills 101 for Cyclists
Traffic Skills 101 (TS101) is a course for beginners, returning and seasoned cyclists alike that will give you the confidence to ride safely and legally in traffic or on the trail. You will learn how to conduct bicycle safety checks, on-bike skills and crash avoidance techniques. We recommended this 7.5-hour class for adults and youth above age 14. Participants should be prepared to ride their bicycle as there is a riding portion to this class. A helmet and bicycle in good working condition are required. A water bottle is recommended.
FC Bikes sponsors this class the second Saturday every other month, free to those who pre-register. Snacks, lunch and course materials are included. Upcoming dates include December 14, January 11, and March 8. Register online for an upcoming course and someone will be in touch to confirm your interest.
Click here to register for the class.
Learn 2 Ride! Class
Regardless of your age, it's not too late to learn to ride a bicycle! Adult Learn 2 Ride! is a free, 2-hour class for adults (+14 years) interested in learning how to ride. Through a safe, easy, and effective method, Students learn how to balance, pedal, start, stop and steer a bike. You will also learn how to properly fit a helmet. Many learn to ride a bicycle while taking this class, and we're confident you will too! You will leave with a new set of skills and access to resources to continue to improve.
A bicycle and a helmet are required. Don't have one? Don't worry! Just note in your registration that you need a helmet and/or a bicycle and we'll provide it for you.
Registration is required! Classes typically scheduled once a month from May to September.