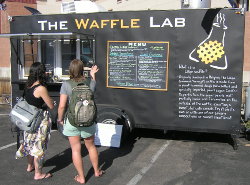 The Waffle Lab
How to be an Outdoor Vendor
Be an outdoor vendor. Pick your location. Get started today.
Expanded Opportunities
Under the new Outdoor Vending ordinances that were passed by the City Council on July 17, the application process to obtain an outdoor vending license is easier and there are many more options and locations. An Outdoor Vendor is any person, whether as owner, agent, consignee or employee, who sells or attempts to sell, or offers to the public, any services, goods, wares or merchandise including, but not limited to food or beverage, from any outdoor location.
An outdoor vending license costs $60.00 for six-months or $120.00 for 12-moths.
How to Apply – Simplified Application Process
Fill out the Mobile Vendor Application (PDF 66KB) and attach all of the required documents.
Submit your application packet to the Sales Tax Division:

City of Fort Collins
Sales Tax Division
215 N. Mason Street, 2nd Floor
Fort Collins, CO 80522-0580
Complete "Menu" of New Rules and Regulations (PDF 154KB)
Studio 14 – Outdoor Vendors - Listen to Jessica Ping-Small, Sales Tax Manager, and Pete Wray, Senior City Planner, discuss the changes to the Outdoor Vending regulations with Kim Newcomer on Studio 14.