Identity Theft
Identity theft is becoming one of the fastest growing crimes. Last year, the Federal Trade Commission received over 680,000 complaints of identity theft. Despite your best efforts to manage your personal information, skilled identity thieves may still gain access to your personal data. Fort Collins police provides tips to protect your identity and information on what to do if you become a victim of identity theft.
Tips to Protect your Identity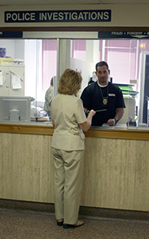 Never give your credit card number or other personal information on the phone, through the mail, or over the Internet unless you have initiated the contact or you are sure you know who you are dealing with. Personal information includes: social security number, driver license number, account number(s), date of birth, place of birth, home address, mother's maiden name or passwords.
When you order new checks, consider removing extra information such as your social security number, driver license number, middle name and telephone number.
Check your credit history and bank records frequently. Look for signs of inaccurate or suspicious activity.
Keep detailed and accurate records of your banking, check writing, credit card and ATM usage.
Ensure that carbons on credit card receipts are destroyed.
Shred or completely destroy any items with personal information or identifiers, such as address, date of birth, social security number, driver license or identification card number and account number(s), rather than discarding them in the trash.
Do not carry extra credit cards, your social security card, birth certificate or passport in your wallet or purse, except when needed.
Cancel your cellular phone account or long distance calling card if it has been stolen or you discover fraudulent charges in your bills.
What to do if you have become a victim of Identity Theft!
Notify the police: Contact your local police department to file a criminal report and provide specific information on what occurred such as bad checks, credit card abuse, name, etc. Keep a copy of the police report.
Contact the Driver License Office: Once you have filed a police report, contact your local drivers license office and ask for assistance in determining the best course for your situation.
Notify Creditors: If unauthorized charges have been made on your credit card accounts, cancel those cards and request replacement cards with new account numbers. Cancel all unauthorized credit cards and accounts and report fraudulent activity to the credit card issuers and credit reporting agencies.
Notify Your Bank: Ask them to flag your account and contact your regarding any unusual activity. Place a stop payment order on stolen checks. Close any unauthorized bank accounts.
Automatic Teller Machine (ATM) Cards: If your ATM card was stolen, contact the issuing institution and request a new card, account number, and password. Be sure to change your old password.
Report the theft to one of the three major credit reporting agencies: Request that a fraud alert and a victim's statement be placed in your file. Also, request a FREE copy of your credit report to determine if any accounts were opened without your consent and request the agency remove inquiries and/or fraudulent accounts stemming from theft. Since these agencies share information, you need only notify one.
Equifax: To request a credit report: 1-800-685-1111, to report fraud 1-800-525-6285 or write to P.O. Box 740241, Atlanta, GA 30374 or website: www.equifax.com.
Experian: To request a credit report or report fraud: 1-888-397-3742 or write to P.O. Box 9532, Allen, TX 75013 or website: www.experian.com.
Trans Union: To request a credit report: 1-800-888-4213. To report fraud: 1-800-680-7289; write to P.O. Box 6790, Fullerton, CA 92634; or email: .
Contact the Social Security Administration: Report unauthorized use of your personal information to SSA Fraud Hotline at 1-800-269-0271.
Contact the Federal Trade Commission: The FTC is the one place to report ID theft to the federal government. To file an identity theft complaint or request information call: 877-438-4338, write FTC, Identity Theft Clearing House, 600 Pennsylvania Ave, NW, Washington, DC 20580, or www.consumer.gov/idtheft/. Be sure to ask for the free brochure: ID Theft, When Bad Things Happen to Your Good Name.
Notify the U.S. Passport Agency: Notify the U.S. Passport Agency to be on alert for anyone fraudulently applying for a new passport in your name: U.S. Passport Agency, 1111 19th Street, N.W., Washington D.C. 20522-1705, 202-647-0518 or at: www.travel.state.gov/passport.