REMINGTON GREENWAY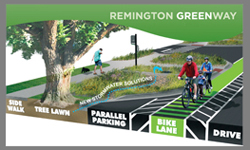 Downloads
Remington Greenway Alternative Ideas
PROJECT OVERVIEW
Background
During the 2010-11 Transportation Master Plan update process, the idea of Green Streets (also referred to as Reshaping Streets) emerged as a community priority and as a means to create streets that fulfill the City's triple bottom line goal of economic, social, and environmental sustainability.
Green Streets is a broad term which includes a number of sustainability elements. Green Streets offer flexibility in street design to calm traffic, support active modes of travel such as bicycling and walking, integrate stormwater management strategies, and provide context-appropriate landscaping. The Green Street concept focuses on creating comfortable street environments that offer benefits to all users.
Selection of Remington
The intent of the Remington Greenway project is to provide a basis for:
Testing Innovative Ideas
Clarifying Costs
Studying Benefits
Remington Street between Mountain Avenue and Prospect Road was identified as a key location to pilot the Green Street concept. As a key North-South corridor, Remington was identified as a secondary commuter route providing easy access to Downtown and CSU while being in close proximity to College Avenue.
The Remington Greenway project will allow the City to test potential solutions such as buffered bike lanes, intersection calming through stop sign placement or roundabouts, drainage swales, rain gardens, curb ramps, pedestrian bulb-outs, and sidewalk enhancements. Ideas which provide successful solutions can then be implemented in other areas of the city.
PROCESS AND SCHEDULE
Phase one construction of the Remington Greenway is anticipated to begin in spring 2015.
CONTACTS
Timothy Kemp | Civil Engineer III | | 970.416.2719
Tessa Greegor | FC Bikes Program Manager | | 970-146-2471
Aaron Iverson, AICP | Senior Transportation Planner | | 970-416-2643