Herbicide Application Weekly Schedule
Always Look For The Signs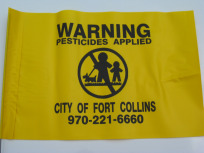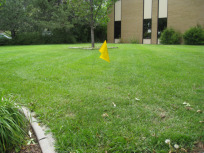 weekly herbicide application schedule
This schedule is updated on a weekly basis during the growing season. Always look for the herbicide application flags that are placed out before application and left up for 24 hours after application.

If there are any questions regarding the application, please contact the Parkshop at cGFya3Nob3BAZmNnb3YuY29t or call 970-221-6660.

Please note that this schedule is subject to change due to weather and scheduled activities.
City Park Nine Golf Course - 411 S. Bryan Ave
General Area Sprayed: Shrub Beds
Trade Name: Glyphosate Pro 4, Fusilade II, Momentum Q, Snapshot 2.5TG, Avenger, Tordon
Active Ingredient: Glyphosate, Fluazifop-P-butyl, 2,4-D, Trifluralin, Isoxaben, Citrus Oil, Picloram
To Control: Weeds and unwanted Grasses
Lee Martinez Park - 600 N Sherwood
General Area Sprayed: Shrub Beds
Trade Name: Glyphosate Pro 4, Fusilade II, Momentum Q, Snapshot 2.5TG, Avenger, Tordon
Active Ingredient: Glyphosate, Fluazifop-P-butyl, 2,4-D, Trifluralin, Isoxaben, Citrus Oil, Picloram
To Control: Weeds and unwanted Grasses
Mulberry Pool - 424 W Mulberry
General Area Sprayed: Shrub Beds
Trade Name: Glyphosate Pro 4, Fusilade II, Momentum Q, Snapshot 2.5TG, Avenger, Tordon
Active Ingredient: Glyphosate, Fluazifop-P-butyl, 2,4-D, Trifluralin, Isoxaben, Citrus Oil, Picloram
To Control: Weeds and unwanted Grasses
Rossborough Park - 1630 Casa Grande Blvd
General Area Sprayed: Turf and Native Areas and Tree Rings
Trade Name: Cornbelt Metro, Glyphosate 4
Active Ingredient: 2,4-D, Glyphosate
To Control: Weeds and unwanted Grasses
Rogers Park - 2515 W Mulberry
General Area Sprayed: Turf and Native Areas and Tree Rings
Trade Name: Cornbelt Metro, Glyphosate 4
Active Ingredient: 2,4-D, Glyphosate
To Control: Weeds and unwanted Grasses
Blevins Park 2012 Hampshire Dr
General Area Sprayed: Turf and Native Areas and Tree Rings
Trade Name: Cornbelt Metro, Glyphosate 4
Active Ingredient: 2,4-D, Glyphosate
To Control: Weeds and unwanted Grasses
Overland Park - 2930 Virginia Dale Dr
General Area Sprayed: Turf and Native Areas and Tree Rings
Trade Name: Cornbelt Metro, Glyphosate 4
Active Ingredient: 2,4-D, Glyphosate
To Control: Weeds and unwanted Grasses
Rolland Moore Park - 2201 S Shields
General Area Sprayed: Turf and Native Areas and Tree Rings
Trade Name: Cornbelt Metro, Glyphosate 4
Active Ingredient: 2,4-D, Glyphosate
To Control: Weeds and unwanted Grasses
Lincoln Center - 400 W Mulberry
General Area Sprayed: Shrub Beds
Trade Name: Glyphosate Pro 4, Fusilade II, Momentum Q, Snapshot 2.5TG, Avenger, Tordon
Active Ingredient: Glyphosate, Fluazifop-P-butyl, 2,4-D, Trifluralin, Isoxaben, Citrus Oil, Picloram
To Control: Weeds and unwanted Grasses