Office Hours: 8:00am-5:00pm M-FClosed holidays
Adopt-A-Park Program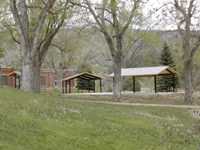 What is Adopt-A-Park?
The primary purpose of this program is to assist city maintenance crews with assigned tasks and projects within a park in order to create a clean park environment for all to enjoy!
Tasks may include trash pickup, graffiti reporting, weeding/raking playgrounds, sweeping shelters, cleaning picnic tables, mulching trees/shrubs, restocking doggie bags, and reporting vandalism. Adopters can also help with special projects, such as graffiti cover-up, painting projects and planting flowers. Some projects and tasks are not available year-round and may be available only at specific parks.
What are the Adopt-A-Park policies?
The Adopting organization commits to a one-year period of adoption. At the end of that year an organization can renew, change sections (if available) or terminate.
Monitoring of the park should be done on a regular basis, usually at least once a week during the warm season, and as weather permits in the cold season. Some sites may require additional time commitments.
The City of Fort Collins will provide trash bags and will be responsible for collecting and disposing of the filled bags. Doggie bags will also be provided for restocking bag containers.
The City of Fort Collins will place a sign in your park crediting your organization for their assistance.
An adopting organization may keep any and all proceeds from any material with recyclable value that is found.

An adopting organization understand that they and/or the individual volunteers will not be paid or receive any other remuneration for services as a volunteer with the City. In additon, they understand that if there is an injury to a volunteer during the course and scope of the volunteer activities that their personal insurance is primary.

Each volunteer with the organization must sign/submit the Adopt-a-Park on-line application. Or, the application can be downloaded and completed with the organizations information and each volunteer can sign the hard copy application. The completed application, with signatures, should then be faxed to the Park Shop at 970-221-6849.
All volunteers in a group will sign a liability waiver for the City of Fort Collins provided here:
https://www.fcgov.com/volunteer/pdf/volunteer_liability_waiver_and_agreement.pdf
Parents/guardians will sign this waiver for each minor:
https://www.fcgov.com/volunteer/pdf/youth_volunteer_liability_waiver_and_agreement.pdf
Submit an Adopt-A-Park application online