City Attorney
Physical Address: City Hall West, 300 LaPorte Ave., Fort Collins, CO 80521
Mailing Address: PO Box 580, Fort Collins, CO 80522-0580
Phone: (970)221-6520
Fax: (970)221-6327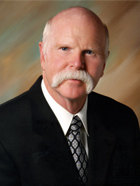 Steve Roy
Deceased – July 3, 2014
The City Attorney is the legal advisor to the City Council and City employees in matters relating to their official powers and duties. He or she is also responsible under the City Charter for representing the City in all legal proceedings, drawing all ordinances and preparing all other legal documents for the City, attending all Council meetings, and performing all services related to the position as may be required by the City Charter, the ordinances of the City or the Council. The City Attorney's Office is comprised of the City Attorney, two Deputy City Attorneys, six Assistant City Attorneys, and one Municipal Court Prosecutor.
The City Attorney's Office does not give legal advice to private citizens. If a citizen is seeking information about his or her individual rights and responsibilities, that individual should contact a private attorney.
Longtime City Attorney Steve Roy passed away suddenly on July 3, 2014. Mr. Roy was appointed to his position in 1988 after joining the office as an assistant city attorney in 1985. Prior to that time, he was engaged in the private practice of law in Fort Collins and also served for six years as a prosecutor with the District Attorney's Office.
COGA v City Court Pleadings
Complaint (PDF 247KB)
Answer (PDF 52KB)
09 Case Management and Scheduling Order Rule 161 CCRP (PDF 149KB)
10 Measure Proponents Motion to Intervene (PDF 408KB)
10a Elizabeth Giddens Affidavit (PDF 207KB)
10b Dolores Williams Affidavit (PDF 163KB)
10c Mary C Anderson Affidavit (PDF 149KB)
10d Ron Holleman Affidavit (PDF 130KB)
10e Bruce Baizel Affidavit (PDF 367KB)
10f Proposed Motion to Dismiss (PDF 543KB)
11 Proposed Order Granting Motion to Intervene (PDF 147KB)
11a Proposed Order Granting Motion to Dismiss (PDF 142KB)
12 Response in Opposition to Motion to Intervene (PDF 1.6MB)
12a Exhibit 1 to Response in Opposition to Motion to Intervene (PDF 341KB)
13a Plaintiffs Notice to Elect Exclusion from 161 Simplified (PDF 209KB)
13 Fort Collins Notice to Elect Exclusion from CCRP 161 Simplified (PDF 47KB)
14 Measure Proponents Reply to COGAS Response in Opposition to Intervention (PDF 160KB)
15 City of Fort Collins Disclosures under CCRP 26a1 (PDF 118KB)
16 COGAS Initial Disclosures (PDF 106KB)
17 Plaintiffs Status Report Recompliance with Rule 16 (PDF 107KB)
18 Order Denying Motion to Intervene (PDF 162KB)
19 Order Setting Summary Judgment Deadlines (PDF 206KB)
20 COGAS Motion for Summary Judgment with_Exhibits Proposed Order (PDF 5.8MB)
21 Measure Proponents Notice of Appeal 41814 (PDF 473KB)
22 Measure Proponents Motion to Stay (PDF 856KB)
23 Measure Proponents Designation of Record on Appeal (PDF 311KB)
24 Fort Collins Combined Brief in Response to cCOGAS Motion for Summary Judgment (PDF 6.2MB)
25 Fort Collins Cross Motion for Summary Judgment_ (PDF 53KB)
26 COGAS Motion for Extension of Time (PDF 107KB)
27 Order Granting Plaintiffs Unopposed_motion_for_extension_of_time (PDF 148KB)
28 Response to Motion to Stay (PDF 137KB)
29 Cogas Designation of Record on Appeal (PDF 105KB)
30 Measure Proponents Reply on Motion to Stay (PDF 176KB)
30a Ex 1 Studies and Reports Supporting Moratorium (PDF 99KB)