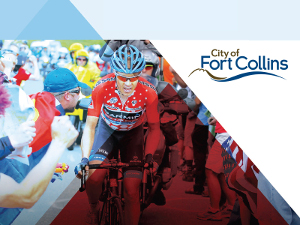 USA Pro Challenge
Embrace The Race!
The USA Pro Challenge, also known as America's Race, is an annual multi-day professional road cycling stage race that takes Colorado by storm for one week each year. Celebrated for taking racers and spectators to incredible altitudes and through spectacular Rocky Mountain scenery, the race makes its second appearance with Stage 6 in Northern Colorado in 2015.
Stage 6 is a Northern Colorado regional collaboration hosted by Larimer County, the Cities of Fort Collins, Loveland and the town of Windsor. The world's top professional cyclists will start the route in Loveland and finish in Fort Collins.
More details about the race, including the route, are coming soon, so check back often for the latest updates.
USA PRO CHALLENGE 2015 COMING SOON
USA Pro Challenge Resources
City of Fort Collins residents and visitors wishing to learn more about the race will find general information at:
Fort Collins Resources
For residents and visitors seeking race information specific to the City of Fort Collins, we hope these useful links will help:
Getting About Town
The USA Pro Challenge entices international bicycle racers and fans alike. While the size and nature of this event may affect travel for some in Fort Collins on race day, alternate routes, travel options and clear communication are being developed to help make the downtown areas and the race route accessible. We are dedicated to ensuring the event is safe and successful; please check here for the latest updates on how to best get around town.
Road Closures
Stage 6 Route Closures (Coming Soon)
CDOT Closures (Coming Soon)
Transfort Bus Service (Coming Soon)
Volunteer
Volunteers are needed for a variety of tasks. To learn more, visit the USA Pro Challenge Volunteer page.