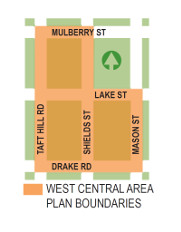 West Central Area Plan

The City will update the West Central Area Plan, an area which generally encompasses the neighborhoods south and west of CSU. This plan's predecessor, the West Central Neighborhoods Plan was adopted in 1999. Now 15 years later, this area hosts several new development projects, with varying degrees of impact.
Given City Plan's emphasis on infill versus sprawl, CSU's increased enrollment projections, and the possibility of an on-campus stadium, it is now time to re-assess plans and policies so the quality of life and character of the West Central Area are preserved and enhanced.
Transportation needs, such as connections to the new Mason Corridor bus rapid transit system (MAX), bicycle and pedestrian enhancements, and improvements to Prospect Road will also be addressed.
Plan Update Background
The West Central Area Plan provides a vision for the area, and serves as the basis for:
land use regulations,
housing policies,
transportation practices, and
historic preservation in the West Central Area.
The West Central Area Plan represents a subarea of City Plan, and builds on citywide vision and policies, while establishing a more specific level of detail and focus within this subarea. The area contains a composite of several individual neighborhoods centered on the intersection of Prospect Road and Shields Street near the Colorado State University Main Campus. There are mixes of older and newer neighborhoods with various characteristics, all of which are influenced to one degree or another by proximity to Colorado State University.
The purpose of the plan update is to revisit the original vision and goals, policy directives, and implementation actions based on emerging issues and trends. The update will incorporate new information from related planning efforts in the area, including the Student Housing Action Plan, Land Use Code amendments regarding compatibility, City Code amendments regarding historic preservation, and new Colorado State University initiatives.
Process and Schedule
The West Central Area Plan will be developed over the course of 2014, with anticipated City Council adoption in 2015. Neighborhood outreach, events, and other engagement activities will occur throughout the development of the plan.
How Can I Get Involved?
The engagement of residents, business owners, students, employees, and other community members will be essential to the success of the plan. There will be numerous opportunities to join the conversation and share your vision for the West Central Area, including listening sessions, workshops, open houses, online surveys, and other activities. If you would like to be involved, please contact us, using the contact information below
ContactS
Ted Shepard | Chief Planner | 970-221-6343 |
Amy Lewin | Transportation Planner | 970-416-2040 |
Links