West Nile Virus Information
What is West Nile Virus?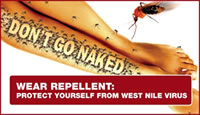 West Nile virus is a disease that is transmitted to humans by mosquitoes. The symptoms of West Nile range from none to very serious.
Keep tabs on mosquitoes in your neighborhood with the Mosquito Dashboard. Select the date and location, and the Dashboard will give you numbers of trapped mosquitoes, and whether or not they tested positive for West Nile Virus.
West Nile Virus Management Policy
The City of Fort Collins recognizes West Nile virus to be a public health issue. This West Nile Virus Management Policy has been developed to reduce the incidence of city residents contracting West Nile virus (a mosquito-borne virus). The overall goal of this policy is to reduce the risk of human West Nile virus infection while limiting adverse human health and environmental impacts.
The City applies adulticides only as an emergency response to a demonstrated increase in West Nile virus risk. A recommendation to adulticide comes from the Larimer County Department of Health and Environment and is review by a City-appointed West Nile Virus Advisory Panel, which provides separate comments to the City Manager. The decision to adulticide lies with the City Manager.
Spraying FAQs
Look for more information on the West Nile virus, spraying maps, precautions you can take? Visit our Frequently Asked Questions
Mosquito Spraying Notification
Sign up to receive e-mail notifications about adulticiding in your neighborhood. We will also use phone numbers listed in the white pages to send notifications via phone. If you're not listed in the white pages, we're unable to call you, so please sign up for the email notification.
Prevention
Take steps now to lessen the likelihood of mosquito bites:
Limit time spent outdoors at dawn or dusk, when mosquitoes are most active.
Wear lightweight, long-sleeved shirts and long pants while outdoors.
Spray clothing with insect repellent since mosquitoes may bite through clothing.
Install or repair window and door screens to keep mosquitoes out.
Apply insect repellent to exposed skin. Always read and follow product directions.
Larimer County provides up-to-date information on different repellants and their effectiveness as well as the best way to keep your kids protected.
Mosquitoes lay eggs in still water which hatch in seven to 10 days. Check out these tips to reduce the number of mosquitoes in and around the house.