City Recycling Drop-off Facility
We're Moving! New Recycling Center Coming Summer/Fall 2016
Later this year, the City drop-off recycling site will be relocated about half a mile away to City-owned property at 1903 S. Timberline Rd (south of Prospect Rd).
The new and improved recycling center will continue to accept cardboard, paper, and mixed bottles/cans, and will also expand to accept certain "hard-to-recycle" items. This means in addition to all materials currently accepted at the drop-off center, residents will be able to take limited quantities of paint, oil, batteries, antifreeze, electronic waste, yard debris, untreated scrap wood, and metals to this center. Some of the hard-to-recycle items will require additional resources and will cost a small fee.
More information is available on the Timberline Drop-off Facility page
Hours: Monday - Sunday during daylight hours

Address: 1702 Riverside Avenue*
*The address is approximate.
The facility is in the parking lot north of Rivendell School located at 1800 E. Prospect.
Fort Collins residents and businesses can recycle a range of materials at the City's full-service recycling drop-off facility. The one-acre drop-off site is open during daylight hours, seven days a week, year-round to the public. The City contracts with a local security company to patrol the site.
Materials collected at this drop-off site include:
Once the containers are full, they are transported to the Larimer County Recycling Center for further processing.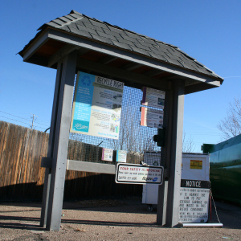 The site features an educational kiosk with various panels of information such as:
Recycling Right
Reduce, Reuse, Recycle
Buying Recycled
Recycling brochures
The kiosk is made out of recycled products except for the information panels. The roofing is made from recycled garden hoses. The structure was built from decking (brown) that is made from recycled wood and plastic milk jugs, as well as recycled plastic lumber (gray).
Container #1 & #2
Corrugated Cardboard & Brown Paper Bags
The compaction system is self-activated by depositing flattened materials into a six-inch opening on each unit. For their safety, children are not allowed on this equipment's platform.
NO soiled, waxed or single layer cardboard (paperboard), pizza boxes, plastic bags, Styrofoam or trash.
Container #3
Paperboard, Phone Books & Low Grade Paper
Accepted items are:
Cereal, cracker boxes
Paper egg cartons
Six- or twelve-pack beverage cartons
Food-free pizza boxes
Soft-bound books
Brown paper/envelopes
Gift, shirt, shoe, tissue boxes
Phone books
Paper bags, wrapping, tissue paper, packing paper
Paper tubes
NO posterboard, milk/juice cartons (they go in Container #5), microwave dinner boxes, plastic/foil lined boxes/bags, pet food, charcoal or fertilizer bags, used tissues, napkins, or paper towels, waxed paper or boxes, Styrofoam, plastic bags or trash.
Container #4
Office Paper, Magazines & Junk Mail ONLY
NO newspapers, neon/fluorescent or dark colored paper, foil-backed paper, paper bags, packing paper, brown or tan envelopes, Styrofoam packing materials, gift wrapping paper, phone books, TYVEK envelopes, trash, plastic bags, strings or boxes.
Container #5
Commingled Containers (Bottles/Cans)
Accepted items are: (please rinse out and remove lids)
Paper cartons such as milk, egg and broth
Steel/tin cans and empty aerosol cans
Aluminum cans
Metal lids/caps - remove from bottles and jars
Plastic food & beverage containers stamped #1-#7 such as jugs, bottles, tubs, clear "clamshells", Nalgene bottles, etc. Lids OK.
NO Glass, Styrofoam, microwave dinner trays, deli food trays, plastic bags or motor oil/anti-freeze bottles, compostable "plastic-like" containers.
Interested in learning what those numbers on the bottom of your plastic soda bottles mean? Plastic Codes (pdf).
Container #6
Newspapers Only
Includes all contents of the newspaper, such as inserts.
Why? Current market demand is extremely high for clean, separated newspaper to be delivered to newsprint manufacturing mills. Getting optimal market prices for our materials helps the City keep this facility open! This project is for you if you are willing to separate your newspaper from other recyclable materials, and/or have access to volumes of newspaper.
Container #7
Glass Only
Clean Bottles & Jars (rinsed, no dirt or rocks)
Glass should be as INTACT as possible (not broken)
All colors
Labels ok
Remove caps and lids
Why? - By depositing glass only in this container you are helping us ensure that nearly 100% of the glass is fully recycled.
NO contaminants such as: broken glass, ceramics, bake-ware, Pyrex, drinking glasses, window glass, mirrors, light bulbs, fish tanks or non-glass containers.
Recycle That Blue Box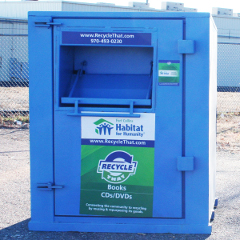 Book, CD, DVD & Fashion Accessory Recycling
Habitat for Humanity benefits from this project which recycles and repurposes used books, CDs, DVDs, and fashion accessories.
City Forestry Department's FREE Mulch Pick-up Location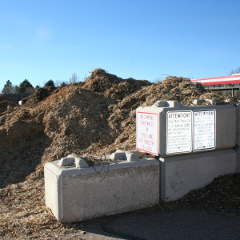 When a surplus of mulch is available, residents can pick up FREE mulch. Please note that this location is NOT a yard waste drop-off location.
This location is for pick-up ONLY. Free mulch is not for the use of contractors, landscapers, or nurseries.
Additional photos:
Background:
In 2002, the City Natural Resources Department (now the Environmental Services Department) created this centralized, full-service, publicly accessible drop-off center to help meet citizens' growing recycling demands. The other full-service facility in the area is Larimer County's Recycling Center, which is located at the County landfill several miles south of Fort Collins at 5887 S. Taft Hill Rd. The City's drop-off center property is leased from the Rivendell School. The City purchased the roll-off recycling containers and uses the services of a local contractor to haul the containers to material recycling facilities (MRF) to be processed and baled for market.
For more information, contact the City Environmental Services Department at (970) 221-6600.