Fort Collins Senior Center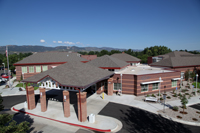 1200 Raintree Drive
PH: (970) 221-6644


The Senior Center completed its' $6.8 million dollar expansion. The refreshed center now features a fitness wing, wellness center and additional community rooms. New programs and amenities will provide you with increased opportunities to enrich your life and focus on your health and wellness.


Features:
Fitness Wing
Wellness Center
25-yard, 4-lane pool
10-person spa
Jog/walk track
Gymnasium
Community Rooms
Auditorium
Pool/snooker
Art rooms
Kitchen and lounge
Media center and library
Community gardens
Experience a new Senior Center!
This summer the City of Fort Collins Recreation Department unveiled the Senior Center's $6.8 million dollar expansion featuring a new fitness wing, wellness center, a 120-seat auditorium and additional community rooms. New programs and amenities provide visitors increased opportunities to enrich their lives and focus on their health and wellness. This September experience a new center with endless opportunities to create, enhance and enrich. You can try the new Senior Center free for two weeks this September. You'll realize why the Senior Center is bigger, better and healthier.
Try the Senior Center out for free this September!
Print the PDF linked above and bring it into this Senior Center during the month of September to receive two free weeks. Experience an incredible new facility with endless opportunities.
Your two free weeks at the Senior Center will give you access to the new weight and cardio room, swimming pool, jog/walk track and free wellness programs listed in the Recreator (based on availability).
Current pass holders are not eligible. Must be 18 years of age or older. Fitness and program discounts are not included with this promotion. Offer expires September 30, 2014.
Holiday Artisan Market: Call for vendors
Members Night
There is a new special night at the Senior Center for members! You're welcome to bring a friend and enjoy the Senior Center. Members will enjoy free use of the pool/snooker room and library/media center as well as drop in cards and drop in shop. The fitness facilities will also be open. We are open until 9 p.m. with snacks beginning at 5:30 p.m. and cash bar from 6-8:30 p.m. Entertainment will be provided on every Thursday of the month!
New Silver Sneakers Program
We are now a Silver Sneakers provider. Silver Sneakers participants are welcome to drop in at both the Senior Center and Northside Aztlan Community Center to work out. We also offer two exercise classes for members to drop in: 11 AM at the Senior Center on Tuesday and Thursday, 11 AM at Northside on Monday and Wednesday.
Those who donate their time, energy and talents play a vital role int he Senior Center operation. There are opportunities for people with strong customer service, clerical, organizational and leadership skills to contribute to an important community resource.
Click here to get started volunteering today!