Fort Collins Senior Center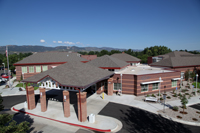 Features:
25-yard, 4-lane pool
10-person spa
Jog/walk track
Gymnasium
Multi-use area with stage
Classrooms
Pool/snooker
Art rooms
Kitchen and lounge
Media center and library
Community gardens
Visual Arts & Crafts Show
The 19th Annual Visual Arts and Crafts Show kicks off at the Senior Center on Wednesday, May 1, with a reception from 4:00 to 6:00 PM which is open to both featured artists and the public. The craftsmanship and diversity of art medium with more than 30 different categories from artists who are 50 and older will be on display at the Senior Center throughout the month of May during regular business hours. Supported by a generous donation from Rigden Farms Senior Living.
New Silver Sneakers Program
We are now a Silver Sneakers provider. Silver Sneakers participants are welcome to drop in at both the Senior Center and Northside Aztlan Community Center to work out. We also offer two exercise classes for members to drop in: 11 AM at the Senior Center on Tuesday and Thursday, 11 AM at Northside on Monday and Wednesday.
Those who donate their time, energy and talents play a vital role int he Senior Center operation. There are opportunities for people with strong customer service, clerical, organizational and leadership skills to contribute to an important community resource.
Click here to get started volunteering today!