Pottery Studio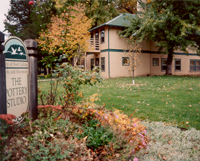 1541 West Oak
PH: (970) 221-6644

The Pottery Studio is located in the northwest corner of City Park. It has provided interactive experiences and education since approximately 1971. The Pottery Studio serves as an educational and recreational facility that offers broad and diverse opportunities and adventures for students of all ages. Including classes where you can share in the experiences with your children or spouse.
Features:
23 Pottery Wheels
7 kilns
200 square feet of work surface
10 different clays in stock
Clay pug mill
Slab-roller (30 inch wide)
Compressor with vented spray booth
Power 10-inch grinder
2 Clay Extruders with many different dies
Pottery Classes
There are classes to meet almost any age range, 3 years and up! View the Recreator to find the perfect class for you.
Lab Time
For people currently enrolled in class or lab there are 18 hours per week where the Pottery Studio is open for working on projects.
The Pottery Studio hours are variable. Please call 970.221.6644 for more information.
This is a group of people who generously donate their time and talents to help with special events and help with studio activities. If you are interested, please contact Pat Dietemann at 970.221.6204.