City Park Pool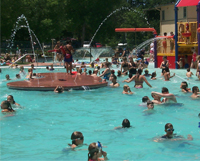 1599 City Park Drive
Weatherline: 970.221.6363

City Park Pool is located in City Park. Enjoy the park surroundings and Sheldon Lake for fishing and an outdoor pool. City Park Pool is the best place to be during those hot summer days in Fort Collins. City Park Pool provides you with a water park experience right in your own backyard.
Features:
Outdoor pool
30-foot drop slide
Open curly slide
Lazy river, shallow water, geysers
Large play structure
Picnic area
Located next to Sheldon Lake
City Park Pool will close early on the evening of August 13th
Due to a private event, City Park Pool will close for the day at 5:30 p.m. on Wednesday, August 13th, 2014.
We will open the following day at at 10 a.m. and will resume our regular schedule.
Splash Drive-In Movie
Join us for movie night at City Park Pool. Movies will be shown on the patio beginning at 8:30 PM. Finish your swim, dry off and then join us. There is no cost for movies, however entry into the pool area must be done before 7:30 PM.
7/25 – Lego movie
8/22 - Turbo
Pooch Plunge
Bring your four-footed friend for a swim at City Park to end the summer! Tickets go on sale August 1 at City Park Pool 1599 City Park Drive or at Advanced Animal Care of Colorado 1530 Riverside Ave. For more information, email All ages welcome!
Date: Monday, 9/1
Time: 4-7 PM
Cost: $5/dog and 2 human friends, day of event $8/dog and 2 human friends, $2/additional spectator tickets
City Park Pool will open for the 2014 season Memorial Day Weekend. The summer 2014 schedule is as follows:
Opening Weekend
May 24-May 26, 10:00 a.m.-5:30 p.m. Everyone swims for $4.50!
May27-30 Closed
Summer Schedule for City Park Pool
May 31-August 17
M-F 10:00 a.m.-8:00 p.m.
Sa-Su 10:00 a.m.-5:30 p.m.
Summer Schedule for Sheldon Lake Boats
May 31-August 17
M-F 3:00 p.m.-7:30 p.m.
Sa-Su 10:00 a.m.-5:00 p.m.
Please click on the link for more details on prices, special events, and group information.
TWILIGHT SWIM
Come swim at City Park Pool for a reduced rate anytime after 4:30 PM until close. Twilight admission will be charged daily 4:30 PM until 8:00 PM Monday thru Friday and until 5:30 PM Saturday and Sunday. No other discounts will be honored during this swim time. Fee for the Twilight Swimming will be $4.50 per person and those under 2 are admitted free.

Think you might like to come more than once? Ask about the Twilight Pass good for 25 visits for only $90.00. This pass can be used by the whole family and your friends. The pass must be purchased ahead of time at either EPIC or Mulberry Pool.
Looking for a great summer job or a challenging career? Being an American Red Cross Lifeguarding or Swim Instructor is the best place to start!
City Park Pool Birthday Parties
Have your birthday party at City Park Pool. Birthday party rentals include a designated table and 10 admissions, $4.50 for each additional admission.
Umbrella - $100 for 2 hrs.
Patio - $200 for 2 hrs.
Times to choose from 7 days a week: 10 AM - Noon, 12:30 PM – 2:30 PM, 3 PM – 5 PM, 5:30 PM – 7:30 PM (M-F only)
Call 970-221-6202 to book your birthday party.
Rent City Park Pool
Always wanted to have the pool to yourself? Here's is your chance to invite all of your friends, neighborhood, team or group and have a fun splash in the pool. We are now accepting reservations for the 2014 City Park Pool Season. City Park Pool can be rented on Saturday and/or Sunday evenings from 6:00-8:00 PM. Fees for the rental are $250.00/hour. For more information or to reserve the pool, please call 970-221-6202.
ADULT SUPERVISION
Children under the age of 8 must be accompanied by a responsible adult in the pool. The adult must pay admission, be wearing a swimsuit, and actively participating in the water with the child and must be within an arm's reach of the child or children. Participant must be 48 inches tall and at least 8 years of age in order to use the large slides at City Park for their safety.

We are taking rentals for Summer 2014! Call 970.221.6202 for information today!