City Park Pool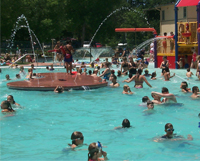 1599 City Park Drive
Weatherline: 970.221.6363

City Park Pool is located in City Park. Enjoy the park surroundings and Sheldon Lake for fishing and an outdoor pool. City Park Pool is the best place to be during those hot summer days in Fort Collins. City Park Pool provides you with a water park experience right in your own backyard.
Features:
Outdoor pool
30-foot drop slide
Open curly slide
Lazy river, shallow water, geysers
Large play structure
Picnic area
Located next to Sheldon Lake
Looking for a great summer job or a challenging career? Being an American Red Cross Lifeguarding or Swim Instructor is the best place to start!
City Park Pool will Open for the Summer on Saturday, May 30
Get ready for summer fun! City Park Pool will open officially for the summer on Saturday, May 30 at 10 a.m.
City Park Pool 2015 Hours
Monday-Friday:
Adult Fitness Swim 9:00-10:00 a.m.
Open Swim 10:00 a.m.-8:00 p.m.
Sheldon Lake Boats 3:00 p.m. - 7:30 p.m.
Saturday & Sunday:
Open Swim 10:00 a.m. - 5:30 p.m.
Sheldon Lake Boats 10:00 a.m.-5:00 p.m.

City Park Pool Birthday Parties
Have your birthday party at City Park Pool. Birthday party rentals include a designated table and 10 admissions, $4.50 for each additional admission.
Umbrella - $100 for 2 hrs.
Patio - $200 for 2 hrs.
Times to choose from 7 days a week: 10 AM - Noon, 12:30 PM – 2:30 PM, 3 PM – 5 PM, 5:30 PM – 7:30 PM (M-F only)
Call 970-221-6607 to book your birthday party.
Rent City Park Pool
Always wanted to have the pool to yourself? Here's is your chance to invite all of your friends, neighborhood, team or group and have a fun splash in the pool. We are now accepting reservations for the 2014 City Park Pool Season. City Park Pool can be rented on Saturday and/or Sunday evenings from 6:00-8:00 PM. Fees for the rental are $250.00/hour. For more information or to reserve the pool, please call 970-221-6607.
ADULT SUPERVISION
Children under the age of 8 must be accompanied by a responsible adult in the pool. The adult must pay admission, be wearing a swimsuit, and actively participating in the water with the child and must be within an arm's reach of the child or children. Participant must be 48 inches tall and at least 8 years of age in order to use the large slides at City Park for their safety.

We are taking rentals for Summer 2015! Call 970.221.6607 for information today!