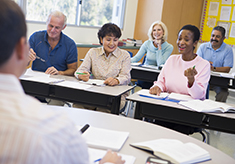 All classes run from 6-8 p.m. in the Community Room at Police Services, 2221 Timberline Road.
HOA Information
Neighborhood Services partners with other entities to provide trainings to homeowner associations (HOA), HOA board members and property managers.
2014 HOA Training Calendar
All classes run from 6-8 p.m. in the Community Room at Police Services, 2221 Timberline Road.
All trainings provided by HindmanSanchez Law Firm, coordinated by the City of Fort Collins.
Maximum room capacity is 80 persons.
May 8 and May 15: Explore the Community Association Handbook...It's all About the Resources
We are trying something new this year! Whether you're a new board member or a seasoned veteran, a community manager new on the job or one who would like a refresher, these classes are for you. Join us for the May 8 and May 15 back-to-back workshops, where we'll explore the Community Association Handbook. In this handbook we'll examine the two statutes that govern community associations in Colorado: the Colorado Common Interest Ownership Act (CCIOA) and the Colorado Revised Nonprofit Corporation Act (Nonprofit Code), and how they work with, supplement and often supersede your governing documents. We'll delve into the nine responsible governance policies required under CCIOA, and how they impact and assist your association. We'll also focus on two of the most difficult aspects of community association governance: Covenant Enforcement and Collection of Delinquent Assessments. Armed with the information in the HindmanSanchez Community Association Handbook, you'll be well on your way to a more successful community association.
Please download and read the HindmanSanchez Community Association Handbook. Identify questions, and be prepared for an interactive and fast-paced experience at these sessions. In order to offer this course at no charge, handbooks will not be available at either session. Attendees are expected to bring their own or to follow along with slides throughout the workshops.
Please Note: Attendance at both sessions is encouraged. There will not be an opportunity to register for May 15 if you do not attend on May 8 as information is meant to be cumulative throughout these workshops. Register Now.
August 21: Better Documents Equal Less Stress
Association leaders must understand and navigate through covenants, bylaws, rules, etc., to successfully operate the community. But if your documents don't contain what today's laws require or offer, or reflect the desires of today's community, are you wasting your time? Worse yet, are you exposing yourself to liability? It's time to stop enforcing illegal provisions, ignoring available remedies, and avoiding the need for change. This class identifies reasons why you should amend, the basic amendment process, and best practices and strategies for gaining approval. Register Now.
September 18: Covenant Enforcement Duties and Obligations
Whether you are brand new to a board or a seasoned veteran, you'll no doubt agree that covenant enforcement is one of the most important duties boards have. Covenant enforcement is also one of the messiest and more difficult areas for boards to manage. In this class, we'll cover the covenant enforcement process, legal requirements for board members when enforcing covenants, and common pitfalls when it comes to covenant enforcement. We will also provide you with tools to get a better "grip" on the enforcement issues in your communities. Register Now.
October 16: The Community Association Bylaws: The Operational Instructional Manual for Boards
Board members and officers are tasked with the day-to-day operations of the community: from holding meetings, taking minutes, conducting elections, and the like. But to perform these actions legally and effectively, there is one document that you must review carefully and know comprehensively: Your Bylaws. The Bylaws are the operational handbook of your community. In this class we will explore a set of Bylaws and discuss everything from the legal requirements for holding a meeting, to how to conduct an election appropriately, to vacancies on the Board, to proper methods for voting. Don't miss out! Register Now.
November 20: Legislative Update / Ask the Experts
The first part of this class includes a comprehensive review of this year's legislation. We'll discuss the legal requirements of each bill, the impact on community associations, and the practical considerations for managers. The second part of this class is opened up as a free-for-all Q&A on any community association legal questions. Join us for this once-a-year opportunity to ask any legal questions you want - the sky's the limit!! Register Now.
Please visit HindmanSanchez for additional classes, taught by HindmanSanchez, throughout Colorado.
Other HOA Resources
Neighborhoodlink.com provides FREE websites to HOAs, neighborhood associations and community organizations across the country.