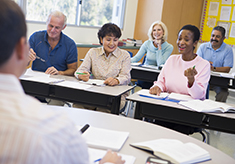 HOA Information
Neighborhood Services partners with other entities to provide trainings to homeowner associations (HOA), HOA board members and property managers.
2015 HOA Training Calendar
All classes listed BELOW run from 6-8 pm in the Community Room at Police Services, 2221 Timberline Road.
All trainings provided by HindmanSanchez Law Firm, coordinated by the City of Fort Collins.
Maximum room capacity is 80 persons.
Disclaimer: The City of Fort Collins does not provide legal services to members of the public. Any information regarding legal concepts, law, or policy provided at this meeting is being provided by outside attorneys as a courtesy by the law firm to attendees. The information provided or the appearance of any attorney or member of any law firm at this meeting does not imply endorsement, approval, or recommendation by the City. No attorney client relationship is established between the City and any attendees to this meeting, and no attorney client relationship should be construed by any attendees. The City is not responsible for the payment of any legal fees that attendees may incur as a result of seeking legal advice from the presenting attorneys following their presentation.
So You're on the Board, Now What?
February 19
Many owners volunteer to serve on their association boards to give back to the community and contribute to a community's success. However, what many board members don't realize at first is that they have many duties and obligations once they are elected to the board. Some of these duties and obligations are contained in the governing documents of the association; some are contained in statute. Regardless of where these duties and obligations originate, they must be followed and observed to keep the board members and associations safe from liability exposure. Join us for this class, where will identify these various duties and obligations and discuss what they mean and how you can comply. This session is a great educational tool for new board members and an excellent refresher for the experienced directors too! Register here.
Technology Advances: How to Use Them in an HOA World
April 23
Whether creating a Facebook page, conducting meetings via Skype, taking minutes on your iPad, using a website or other social media to build your association's online presence, or documenting violations through your smart phone, advances in technology are proving to be beneficial in all aspects of community association governance. Learn how to take advantage of technology in the HOA world, so your association can increase its operating efficiency, accessibility, and effectiveness, while proactively addressing the associated risks. Register here.
Everyone is invited to come early to this April training and join in a discussion, 5-6pm, about Nextdoor.com. The discussion will be hosted by Amanda Nagl, Neighborhood Administrator, in the Community Room at Police Services. The first half hour will be a guided tour through the tool, highlighting information provided by Nextdoor to assist neighbors in launching and administrating the tool. The second half hour will be a facilitated dialogue where actual users can share information and tips for how to create an effective system of communication in neighborhoods.
This opportunity is being created based on requests from neighborhood leaders at the November, "Let's Talk Neighborhoods" event. There will likely be other training opportunities created later in the year, as interest grows. The design for those events will be largely based on feedback from attendees at this training opportunity. Those who are completely unfamiliar with the tool are encouraged to go to nextdoor.com to learn more.
Successful Enforcement of Covenants, Rules and Architectural Standards/Guidelines
May 14
Whether you are brand new to a board or a seasoned veteran, you'll no doubt agree that enforcement of covenants, rules and architectural guidelines is one of the most important duties boards and architectural committee members have. Covenant enforcement is also one of the messiest and more difficult areas for boards to manage. In this class, we'll cover the covenant enforcement process, legal requirements for board members, and common pitfalls when it comes to covenant enforcement. We will also review the receipt, review and response process that architectural committee members should understand and enforce when navigating the architectural review process. Finally, we will provide you with tools to get a better "grip" on the enforcement issues in your communities. Register here.
So Now That You Know CCIOA, What About The Other Applicable Laws?
July 16
If you're on the board then you probably know all about the Colorado Common Interest Ownership Act (CCIOA), which governs most community associations in Colorado. However, don't forget there are several other laws that impact associations on a regular basis. Are you familiar with the Over-The-Air Reception Device (OTARD) law that requires associations to allow satellite dishes? The Fair Housing Amendments Act ("FHAA"), which requires associations to provide reasonable accommodations to disabled people? How about the Water Conservation and Drought Mitigation law under C.R.S. '37-60-126, which requires associations to allow xeriscaping? Come to this class and learn about the myriad of laws, other than CCIOA, that may impact your association. Register here.
CCIOA: What Does it Mean
August 13
Except for a few exempt communities, all Colorado common interest communities are governed by the Colorado Common Interest Ownership Act ("CCIOA"). However, if your community was created before July 1, 1992, it's considered a "pre-CCIOA" community and only certain provisions of CCIOA apply. If your community was created on or after July 1, 1992, it's considered a "post-CCIOA" community and all of CCIOA applies. In this class we'll review some of the more important provisions of CCIOA, and how they apply to pre and post CCIOA communities. Register here.
Everything You Wanted to Know About Meetings
September 29, 6:00-8:00
Are you taking action without a meeting (i.e., by email) correctly? Under what circumstances can you go into executive session? What kind of notice do you need for board meetings vs. an annual meeting? How are elections conducted? These and other questions related to owner and board meetings will be discussed in this class. We will explore the procedural requirements under the law and your governing documents, as well as techniques for conducting effective and productive meetings. Register here.
Please visit HindmanSanchez for additional classes, taught by HindmanSanchez, throughout Colorado.
Other HOA Resources
Neighborhoodlink.com provides FREE websites to HOAs, neighborhood associations and community organizations across the country.