2014 Independence Day Celebration at City Park and Downtown Fort Collins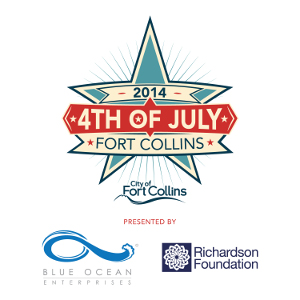 Celebrate America's Independence with a day and evening full of family friendly fun activities, and events in City Park.

Need help navigating on the 4th? For information about street closures, click here.

7:30am | Kids fun run at 9:10 | City Park
Twelfth annual running of the Ft. Collins Running Club's FireKracker 5K, features a flat fast 5K course that runs through City Park and onto City streets before finishing at Sheldon Lake in City Park.
A kid's fun run with ribbons for all finishers will be run immediately after the 5K. A great way to kick off your 4th of July. Check the website for details.
Golf Tournament
Shotgun start at 8:00am | City Park Nine

Two person better ball tournament. Please call 970.221.6650 for details.
33rd Annual Old Timer's Game
9:30am | City Park North Ballfield
Enjoy a blast from the past watching these men relive their great memories enjoying the sport that they love.
July 4th Parade
10:00 am | On Mountain Avenue (beginning at Jackson Avenue and ending at Howes Street)
Join us for the 4th of July Parade. For information on the parade route, click here.
City Park Pool
10:00am | 1599 City Park Drive
Take a dip in the pool! $3 admission for any age! Open until 5:30pm!
Old-Fashioned Fourth of July
10:00am to 1:00 pm | The Avery House
Join Poudre Landmarks Foundation for some old-fashioned fun to celebrate the fourth!
1:00 pm | City Park South
Tickets are:
$6/adult;
$4/Children (5-14);
$4/Seniors (over 65);
Children under 4 and active military with ID are admitted for FREE.
Free mini American flag to the first 250 fans.

Live Music
4:15-9:30 pm | City Park
Live music will be located on the South Side of the Hill at City Park at the corner of Sheldon and Mulberry.

4:15-5:15 pm: Colorado Swing Big Band
6:00-7:00 pm: Manabi Salsa Band
8:15-9:30 pm: Fort Collins Symphony
Fireworks
Approximately 9:35 pm| City Park
End the 4th of July with an amazing fireworks show.

Please know that dogs, alcohol and fireworks are not allowed in City Park or on the Transfort shuttles.

In the case of a weather event, the fireworks display may be delayed until (no later than) 10:00 p.m. If the weather has not cleared by 10:00 p.m., the display will be postponed to July 5 at dusk. Weather that may delay the fireworks would include severe weather, moderate to heavy rain and/or wind gusts of more than 8 mph. The decision to delay will ultimately be made by Poudre Fire Authority.
Transfort Shuttle Service
Free Transfort shuttle service will be available to City Park from the Downtown Transit Center (DTC) and the CSU Towers parking lot. Shuttles begin at 5:30 PM going to City Park. Last departure leaving to City Park will be at 9:10 PM. Please call 221-6620 with Transfort shuttle questions.

Click here to view the shuttle map for the downtown route.
Click here to view the shuttle map for the CSU route.

MAX will also be in operation from 5:00 PM to midnight on the 4th of July. Service will begin from the South Transit Center at 5:00 PM and the last bus will depart the Downtown Transit Center at 11:50 PM. Use the MAX and a free shuttle to get to City Park.