Independence Day Celebration at City Park and Downtown Fort Collins
4th of July Parade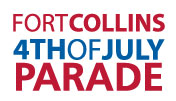 9:30am | On Mountain Avenue (beginning at Jackson and ending at Howes Street)
We are starting a new tradition in Fort Collins, a 4th of July Parade. We are currently looking for applicants. See below for details.
Celebrate America's independence by creating an entry that captures the patriotism of the 4th of July! Your entry could be a winner of one of the following awards: Best Overall, Second or Third.
Click here to view the application. Applications must be received by Friday, May 24 no later than 5:00 PM and should be delivered or sent to:
City of Fort Collins Parks & Recreation
Attn: July 4th Parade (Recreation)
PO Box 580
215 N. Mason Street, 3rd Floor
Fort Collins, CO 80522

For questions about the parade or entries, please call Bob Adams at 970.221.6354 or
Celebrate America's Independence with a day and evening full of family friendly fun activities, and events in City Park. Check back for updates!