April 2016 Sustainability Newsletter
City Co-Hosts Regional Panel on Housing


Mayor Wade Troxell, Mayor Pro-Tem Gerry Horak and Fort Collins Chief Sustainability Officer Jackie Kozak Thiel participated in a February 26 regional panel discussion on housing affordability – co-sponsored by the City of Fort Collins Social Sustainability department and the Fort Collins Board of Realtors - that included representatives from Greeley, Loveland, Windsor and Berthoud. Realtors, business leaders, elected officials and others began a conversation about how to address increasing housing costs and wages that aren't keeping pace. About 120 people attended the event, which organizers said is just the beginning of a long-term dialogue.
CSU Professor Martin Shields presented information about rapid appreciation in housing costs over the past two years that has outpaced incomes despite overall improvements in the economy.
Kozak Thiel highlighted Fort Collins' recent adoption of a five-year Affordable Housing Strategic Plan that encourages strategies that aim to produce 188 new units of affordable housing units per year. Those strategies include activating the City's Land Bank program. The Fort Collins Housing Authority will build the first Land Bank property to be deployed on West Horsetooth Road: 96 units targeting households with income of no more than 60 percent of the Average Median Income.
Some interesting statistics presented about Fort Collins:
Median apartment rent: about $14,984 a year
Median housing sales prices: $300,000
Number of households: 66,492
Sign Up for Healthy Homes April Trainings
The City's Healthy Homes program is seeking community members to participate in the annual Master Home Educator training in April. Master Home Educators conduct free, in-home air quality assessments for Fort Collins residents and suggest no- or low-cost improvements.
Prospective Master Home Educators are asked to complete 20 hours of comprehensive training April 5 – 21, 2016 on the home as a system where they learn to identify common problems, the health implications, and how to fix them. All trainings will be held in the Community Room at 215 N. Mason Street. Dates and topics will be:
April 5, 5:30 – 8 p.m.: Program Overview, Science of Persuasion, and Behavior Change
April 7, 5:30 – 8 p.m.: Asthma, Allergies, and KEEP IT: Clean and Pest Free
April 12, 5:30 – 8 p.m.: KEEP IT: Dry and Well Ventilated
April 14, 5:30 – 8 p.m.: – KEEP IT: Free of Contaminants
April 16, 9 a.m. – 12 p.m.: KEEP IT: Well Maintained, HVAC, and Review of Assessment Tools
April 19, 5:30 – 8 p.m.: Home and Master Home Educator Safety and Extreme Weather Events
April 21, 5:30 – 8 p.m.: Record Keeping, Presentations (Refresher Course) and Graduation
After certification, participants are expected to contribute 20 hours or complete 10 home health assessments in the coming year. Classes are limited to 25 participants. To learn more about the Healthy Homes program and becoming a Master Home Educator, visit the website.
Georgetown Rankings Bump City to No. 10

Fort Collins has moved up yet again in the rankings to 10 out of 50 U.S. communities in the Georgetown University Energy Prize, which the City has renamed the "Lose A Watt" competition. The community had been ranked 13th for the first two quarters of 2015 and 12th by the third quarter. Rankings are based on data filed by communities to date - some communities may not always have their data in the system or may be working to correct errors, according to Georgetown.

"The community has done a great job to show it can reduce energy consumption,†said Energy Services Manager John Phelan. "We hope these rankings will inspire the competitive spirit of our citizens. Let's keep up the good work!â€
As part of the competition, Fort Collins will host community challenges through its Lose-A-Watt app. The challenges will be held during the last seven days of each month. The next challenge will take place March 25 – 31. Winners will each receive a free LED light bulb. See more information.
A Good Time to Stop Idling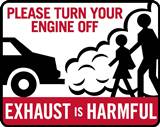 Fort Collins remains in the non-attainment area for ozone, meaning the community does not meet national air quality health standards, and vehicle idling is a large contributor. Idling vehicles emit ozone as a byproduct of vehicle combustion, which contributes to air pollution and negatively affects respiratory health. Also, exposure to volatile organic compounds and carbon monoxide is high in situations where idling occurs, such as traffic congestion or vehicle line-ups in school zones or drive-thru windows.
Surveys suggest that more than 15,000 unnecessary hours of vehicle idling occur in Fort Collins every year. Many people idle their cars when picking someone up, waiting behind trains, warming up cars, or running errands. There are alternatives to idling in these situations, including:
Turning off ignition when waiting in a car for more than 30 seconds
Turning off ignition while a train is passing
Turning off ignition at school drop-off zones
Parking and going inside instead of using the drive-thru lane
Warming up engines by driving slowly
The average driver wastes one to two gallons of gas each year due to idling. This adds up -- avoiding five minutes of idling each day can save drivers $35 every year. Turning off cars instead of idling can save money engine repairs and fuel, prevent environmental impact and reduce wear and tear on engines.
More information on idling, its negative effects, idling myths and alternatives to idling may be found at www.fcgov.com/breatheeasy.
Recycling Center Update
By popular demand, the City will soon expand its recycling drop-off facilities to include some hard-to-recycle items.
Since 2002, the City has operated a popular recycling drop-off site on Riverside Avenue just north of the Rivendell School, which has provided residents the opportunity to conveniently recycle a broad range of materials. Later this year, the City will relocate that facility about one mile away to City-owned property near the southwest corner of Timberline and Prospect roads.
The new recycling center will be built in response to greater public demand to more easily recycle "hard-to-recycle†items and help meet the community's waste diversion goals. Residents and City Council have expressed strong support for expanded waste reduction and recycling goals identified in City Plan and the City's Strategic Plan. Stay updated at the City's recycling website.
Business Appreciation Breakfast
The popular Business Appreciation Breakfast, held in May for the past three years, will be held this fall. A date will be announced soon. Check back at www.fcgov.com/business.

Climate Action Plan
City Council will meet for a work session on March 10 to discuss the Climate Action Plan. For the discussion, staff has prepared a list of initiatives that could help the City achieve aspirational goals to reduce the community's greenhouse gas emissions 20 percent below 2005 levels by 2020. Read more.