Smoking in Fort Collins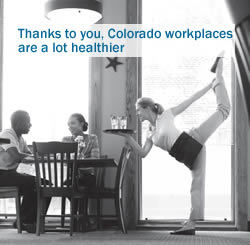 Smoking is prohibited in the following areas and types of businesses.
No smoking in any Fort Collins restaurants and bars.
No smoking on or within 20 feet of outdoor dining areas or patios abutting a public right-of-way or sidewalk Please note: Outdoor dining areas or patios located away from the public right-of-way or sidewalk have until June 18, 2014 to comply.
No smoking in any places of employment, except in locations in which the City Code expressly permits smoking.
No smoking within a 20-foot perimeter outside of the entrances, operable windows, passageways and ventilation systems of smoke-free areas, except for passerbys who do not stop.
No smoking in bowling alleys and bingo parlors.
No smoking at any of Transfort's public transit facilities, benches, and platforms.
Smoking is permitted smoking in the following areas:
You may smoke in private residences (except those in use for public services).
Hotels/motels may allow smoking in up to 25% of hotel/motel guest rooms.
You may smoke in retail tobacco stores.
You may smoke in private functions not open to the public.
You may smoke in smoking cessation rooms or hospital smoking rooms.
You may smoke in buildings under control of other governments. The decision to allow or prohibit smoking is at the discretion of the government controlling the building.
The local ordinance prohibits retaliation against any employee, applicant for employment or customer due to the exercise of rights under the ordinance. Read the entire "Smoking in Public Areas" municipal code.
If you see smoking where it is not permitted, please report violations by calling 970-416-2200 or online using Access Fort Collins, under Nuisance Reporting.