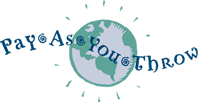 Volume-Based Trash Rates
Fort Collins has a volume-based trash rates system called "pay-as-you-throw" (PAYT) that provides economic rewards for reducing waste. Residents are charged for the amount of trash they generate in the same way we get billed for the amount of electricity, gas and other utilities that we use. That means "the less you throw away, the less you pay."
To lower your trash bills, first look at how to REDUCE your family's waste stream by buying in bulk, shopping for durable products that will last longer and avoiding excess packaging whenever possible. Then look for ways to RECYCLE & RE-USE even more things than what you may already be separating from your household waste – the sky's the limit!
Almost all paper products (magazines, newspaper, junk mail, office paper), plus your bottles and cans, can be recycled in Fort Collins' weekly curbside recycling collection program.
Did you know you may now add paperboard and corrugated cardboard as well? In the "bottles and cans" categories, you can recycle aluminum, tin/steel cans, glass jars and bottles and many types of plastics containers labeled #1-#7. Check out the complete list (PDF 119KB).
As required by their license with the City of Fort Collins, local trash haulers are required to provide customers with a wheeled, lidded cart for recycling upon request, no later than January 2010. Contact your company to place an order for a 64-gallon or 96-gallon recycling cart. Once it has been delivered, the hauler may switch to an every-other-week collection schedule that cuts in half the amount of traffic in neighborhoods from recycling trucks (and haulers' costs). Please note that although recycling collection will change, trash collection will continue to be a weekly service.
Consider trying your hand at composting yardwaste and kitchen scraps. Become familiar with places in town that take your re-usable items, such as clothing and furniture, salvaged building materials, even used cooking oil. Give these items a second chance.
Now think about "RIGHT-SIZING" your trash can. If your efforts to reduce the amount of waste that comes out of your household each week have been successful, you can probably subscribe to a lower, less expensive level of trash service. It will save money on your trash bill!
How Does Pay-As-You-Throw Work?
Trash rates in Fort Collins are based on volume; residents are charged for each can or bag of waste they generate. It's a system designed to motivate people to recycle more and to think about ways to generate less waste in the first place. For example, using a mulching mower eliminates the cost of disposing of grass clippings (not to mention returning nutrients to your lawn).
Services for trash and recycling collection are offered by private carriers, so residents "subscribe" directly (or through their HOA) to local trash companies. The City requires licensed haulers to apply volume-based pricing and offer a range of service level options (1-can, 2-can, or 3-can per week services) to all residents who live in single-family homes or in multi-family housing with eight units or less. Haulers must also provide curbside recycling to these customers at no additional charge.
What are Some Other Benefits?
Pay-as-you-throw programs are good for the environment because they encourage people to reduce, reuse and recycle. Less waste and more recycling mean that fewer natural resources are used, less energy is consumed and less pollution – including greenhouse gases that contribute to global warming -- is created from manufacturing. In addition, landfill space is used at a slower rate, reducing the need to site new facilities.
Another important feature of volume-based trash is the fairness and greater control over costs that it offers. When you're successful at reducing your trash, you shouldn't be expected to pay as much as the neighbor whose garbage can overflows each week with extra bags of trash. It's only fair that when you recycle and prevent waste, you'll be rewarded with a lower trash bill.
Communities that apply variable trash rates, like Fort Collins, can send an important "source reduction" signal to manufacturers of products. When individual consumers begin to understand that their trash costs money, they are likely to adjust their purchasing habits to favor products that will result in less waste and cost less when discarded. As more and more communities adopt "PAYT" programs, manufacturers are motivated to design their products to appeal to this growing consumer preference.
Fort Collins' Ordinance
To be in compliance with the city ordinance, residential trash haulers must:
Offer curbside recycling at no additional charge;
Charge variable rates for trash service (must charge at least the same amount for each additional can or bag of trash);
Allow customers to select from a range of trash service levels (in other words, a small, medium or large container; some even offer just a roll of pre-paid bags for accounts that generate very little trash.
Trash companies may no longer charge a monthly service charge; only the volume-based rate may be listed on customers' bills. That means the "pure" cost of garbage will be very clear, which is designed to help send the price signal that "the less you throw away, the less you pay."
Please contact the City of Fort Collins Natural Resources Department (970-221-6600), if you feel that your trash service is not meeting these provisions. The Pay-as-you-throw system is important to the community because our environment, the local economy and your family budget all benefit. Visit fcgov.com/recycling for news, updates on local programs and recycling opportunities in Fort Collins, and for more ideas about ways to reduce your household's waste stream.
More information can also be found at:
REDUCE
Tip 1: Reduce the amount of unnecessary packaging
Tip 2: Adopt practices that reduce waste
REUSE
Tip 3: Consider reusable products
Tip 4: Maintain and repair durable products
Tip 5: Reuse bags, containers, and other items
Tip 6: Borrow, rent, or share items used infrequently
Tip 7: Sell or donate goods instead of throwing them out
RECYCLE
Tip 8: Choose recyclable products and containers and recycle them
Tip 9: Select products made from recycled materials
Tip 10: Compost yard trimmings and some food scraps