The Farm at Lee Martinez Park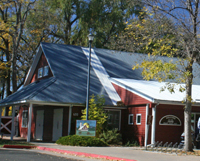 600 North Sherwood
PH: (970) 221-6665

The Farm at Lee Martinez Park has provided hands-on family fun since 1985. The Farm serves as an educational and interactive experience for Fort Collins residents and visitors. Your visit to The Farm will be an adventure for all ages. You can learn more about the industry that shaped this region, have interactive, hands-on farm fun, and introduce your child to agriculture and farm life while visiting.
Features:
Farm animals
Hands-on experiences
Interactive family fun
Birthday party rentals
Museum & The Farm Store
Hayrides (schedule in advance)
Pony rides
Special events
Holiday Hours
All Facilities will be closed on Thanskgiving Day, November 26
Senior Center will close at 5 p.m. on Wed., Nov. 25 and Fri., Nov. 27.
Northside Aztlan Center will close at 5 p.m. on Nov. 25 and resume normal hours on Nov. 27.
Edora Pool Ice Center will be close at 5:00 p.m. on Nov. 25 and resume normal hours on Nov. 27
Mulberry Pool will close at 5:00pm on Wed., Nov. 25 and normal hours on the Fri., Nov. 27.
The Farm at Lee Martinez Park will be open from 10 a.m. – 4 p.m. on Nov. 25 and resume normal hours on Nov. 27
Play The Farm Game
Mooooove over Angry Birds. Explore The Farm at Lee Martinez Park and learn about the animals that call it home with this interactive game created by Lightsource Creative Communications. Test your "farm knowledge" and discover your inner-farmer. This game is great for kids ages 2-7 at home or in the classroom.
Adopt an Animal
Anyone can adopt an animal at The Farm and become its "parent." As an adoptive parent, you are helping to provide for the food and care of your animal. Of course, your adopted animal stays at The Farm where it is cared for by Farm staff. Note: for all practical purposes, some of the animals are sold when they reach maturity. It's easy to adopt! Choose your favorite farm animal and adopt it for a year by making a tax-deductible donation. A farm "parent" receives an adoption certificate, his/her name listed at The Farm, and a poster as a "thank you," because we do appreciate your support. All adoptive parents will be invited to Santa on the Farm at The Farm in December.
Call us at 970.221.6665 for more information or to adopt today!
Pony Club
Calling all pony lovers! Join us in Pony Club where you will get exclusive access to the pony gang during special Pony Club hours. You will be on an email list to keep you informed about the ponies and upcoming activities. A monthly fee of $18 is charged with additional fees for some activites. To be in Pony Club you must have completed at least one of The Farm's Pony Camps or Horsemanship classes and be at least 8 years old. Call The Farm at 970.221.6665 or email Bridget at for more information.
Birthday Parties
Celebrate a birthday with a farm flair! Meeting the animals, riding a pony or going on a hayride create a very unique party for your 3 to 9 year old. Call The Farm or stop by during open hours to reserve your dates. A minimum charge is due at time of reservation. Your hostess will take care of all the details to ensure a stress-free day for you.
For more information about rentals, click here.
Barnyard Buddy Pass
This pass includes unlimited visits for up to 4 people a visit (additional guests ages 2-84 pay half admission) and an invitation to Santa on the Farm. Commercial and home daycare Barnyard Buddy Passes are also available. Please call The Farm for more information.