Northside Aztlan Community Center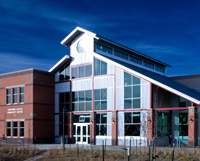 Northside Aztlan Community Center
112 E. Willow Street, Fort Collins, CO 80524
970.221.6256
Fax: 970.416.2278


Northside Aztlan Community Center is home to a wide variety of activities, classes, programs, sports and events. The Northside Aztlan Center continues to provide the same beneficial community programs as well as new and exciting opportunities. The Northside Aztlan Center is a 50,000 square foot recreation center (more than three times its original size) offering various activities.
Features:
Connections to the Poudre River Trail
Outdoor Basketball Court
Outdoor Skate Park
Outdoor Playground
Outdoor Handball Courts
A triple gymnasium complex
Elevated running track
Locker rooms
State of the Art Weight & Cardio Theatre
Multi-purpose rooms (Rent a room for weddings, receptions and parties)
Kitchen
Classrooms
An intergenerational lounge and computer lab
Spinning Studio
Dance/Yoga Studio
Kids Cafe
Dinner: 5:15-6:00 PM
Free ($2.00 per adult)
The Food Bank of Larimer County Kids Cafe program provides children ages 3-18 who are at risk of hunger access to a nutritious meal. Meals are available to accompanying parents at a charge of $2.00 per meal. Call 970.221.6256 for more information.
Vida Sana
Please come join us for all of our Vida Sana events!
Vida Sana members may access the Northside Facility for free for usage of the cardio/weight room, basketball court during open gym times and track use. ***The Vida Sana pass can and will be revoked if being utilized for the sole purpose of showering or lotering at the facility. ***
Zumba classes are FREE to Vida Sana Members. If you are not a Vida Sana member class enrollment prices can vary depending if you have a facility pass or not.
ENROLLMENT for fitness classes for Non- Vida Sana: With Facility Pass Enrollment is $.90/class, ttl. $4.50/5week session. Without facility pass: Enrollment is $3.00/class, ttl $15.00/5week session. Drop in$5.50.
Zumba classes are Monday, Wednesday, & Friday at Club Tico - 9:00-10:00 AM. Wednesday & Thursday at Northside Aztlan Community Center - 6:15-7:15 PM. (Fall 5 week session - Beginning Sept 16th. Evening Zumba Will be Tuesday and Thursday's only at 6:30 - 7:30pm) Sunday afternoons at Northside Aztlan Community Center - 3:30-4:30 PM
Active childcare takes place at Northside Aztlan Center during the evening Zumba classes on Wedneday and Thursday (6:15-7:15 PM) and Monday, Wednesday, and Friday at Club Tico.
You may complete an application for Vida Sana at the Northside Aztlan Community Center.
Vida Sana is a Coloardo Department of Public Health and Environment Grant focused on health equity for the Latino community. For more information about Vida Sana or to join the Vida Sana coalition, please contact Jen Garza at 221-6652, .
Youth Nights
All ages are welcome.
Ages: 12-18 (organized activities are designed for this age)
Thursdays from 3:00 to 9:00 PM, Free
Every Thursday is your night! Arena football, dodgeball, indoor soccer, ping pong tournaments, Madden tournaments, teen weights, field trips, dance, fitness, food, prizes and much much more!
Senior VOA Meals
Tuesday & Wednesday, Noon, Suggested Donation: $2.50
Senior nutrition is a service of Volunteers of America in cooperation with the City of Fort Collins Recreation Department. A hot lunch is provided. Call 970.472.9630 for more information.
Lounge Drop-In
Monday-Friday from 10:00 AM to 3:00 PM and 6:00 to 9:00 PM
Saturday and Sunday from Noon to 5:00 PM
Come enjoy the fun! With pool tables, ping pong tables, play station and computers, we put together a variety of different activities throughout the night. Kids ages 12-18 are free.
Our Mission
Northside Aztlan Community Center Advisory Council's mission is to ensure the success of Northside Aztlan Community Center by advocating for accessibility, effective programming and multicultural inclusion. The Council's role includes, in part, advocating, supporting and promoting Northside Aztlan Center and providing advice on issues that will impact positive growth and programming for Northside Aztlan Center.

The Council meets regularly, the 3rd Wednesday of each month at 6:30 p.m. at Northside Aztlan Center. All meetings are open to the public, however we recommend contacting the Chair if you plan to attend in case the meeting location has changed. We welcome any input you may have and look forward to our working relationship with all who are interested in our mission.

If you are interested in serving as a member of the Council, we encourage you to apply. As there is no set deadline, we accept completed applications at any time. You may submit your applications in person, via e-mail, or mail to the addresses listed below.

For more information you may contact the Council Chair, Frank Martinez, via e-mail at You may also contact Northside Aztlan Center Advisory Council via mail:
Northside Aztlan Community Center Advisory Council
Northside Aztlan Community Center
112 East Willow, Fort Collins, CO 80524

Click here to download the application for the Northside Aztlan Center Advisory Council.