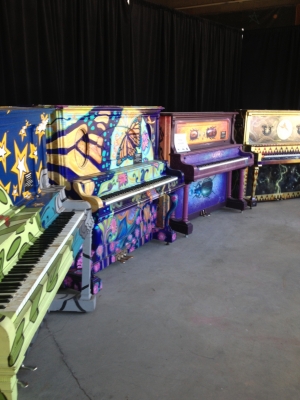 The City of Fort Collins Art in Public Places Program, in cooperation with Bohemian Foundation and possibly Downtown Development Authority, is seeking mural proposals from artists/teams for the Pianos About Town Project. The artist or artist teams are required to develop and submit a preliminary visual concept for the mural to be painted on a functioning piano. This year the program is asking for submissions to depict a theme of "Celebrating Fort Collins 150th Birthday." Selected artists will paint murals on working upright pianos in a public location in Fort Collins. The intent of this project is to create a Downtown attraction of an artist working on site in Old Town Square and to place painted pianos around the Fort Collins area for the community to enjoy.
This project is open to individual artists or artist teams. Teams can include school groups, clubs, organizations, etc. The artist or team leader must be at least 18 years of age. The Selection Committee will select multiple artists for this project. Artists may download the Request For Proposals (RFP)#7614 form from the Art in Public Places website at
www.fcgov.com/artspublic
. Proposals must be received before 5:00 p.m. (our clock), April 7, 2014.
For questions regarding this project or the Art in Public Places Program, please contact Ellen Martin at (970) 416-2789 or . Questions regarding proposal submittal or process should be directed to Gerry S. Paul, Director of Purchasing and Risk Management, (970) 221-6775.
###