Adopt-A-Neighbor
Our Adopt-A-Neighbor program offers snow shoveling for City residents who are physically unable to do so and cannot afford to hire someone.
To Get Help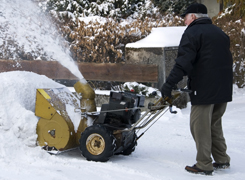 If you need assistance, you must register by filling out an assistance application . Please read the guidelines in advance. Once the application is received, letters are sent to your neighbors asking interested volunteers to contact Neighborhood Services. Our goal is to match each neighbor with the same volunteer for the entire winter season. We cannot guarantee we will find a volunteer, and residents are still responsible for proper snow shoveling.
To Volunteer to Help
If you are interested in volunteering, please fill out a volunteer application and read the volunteer guidelines. By volunteering, we expect you will "adopt the neighbor" and help with shoveling for the entire winter season. Volunteers are required to shovel within 24 hours of a snowfall and only shovel the sidewalk and walk leading up to the front door. If they so choose, volunteers can also shovel the driveway. If a volunteer is unable to shovel, we ask the volunteer to find a replacement or contact our office.
This service is not available for immediate or same day assistance. Residents must register in advance and we assist linking them with a volunteer. If you need more info, please contact Neighborhood Services.