Become a Master Naturalist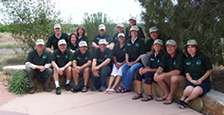 Master Naturalists are volunteer educators with the City of Fort Collins Natural Areas Program. Each spring, new volunteers embark on a fun, active training program. They:
experience little-known but beautiful natural areas;
learn how to lead fun, hands-on field trips in local natural areas;
experience the values and benefits that natural areas add to our lives;
realize that natural areas offer amazing experiences for everyone;
discover basic ecology and make connections between species and landscapes;
practice teaching and interpretation techniques;
understand management affecting natural areas;
meet others who love nature, too!
After the training, volunteers share their knowledge and enthusiasm for natural areas with audiences of all ages. Volunteer assignments include leading field trips for school children, giving presentations to groups, staffing event booths and more.
Previously certified Master Naturalists have said:
"I feel fortunate to have been exposed to your wonderful program."
"I wish the training wasn't over!"
"Excellent program! It has far exceeded my expectations."
"I just love giving programs to the school groups - the support of the Natural Areas Program staff is fantastic, and the feedback from the children makes my day."

Learn More
Full job description for Volunteer Master Naturalist. To become a Master Naturalist, an application is required. The 2014 application will be posted here in February 2014. To be contacted when application materials are ready or learn more, contact Outreach and Education Coordinator, Sue Kenney by email or call (970) 224-6118.
The City of Fort Collins Master Naturalist Program is a member of the Alliance of Natural Resource Outreach and Stewardship Programs (ANROSP), a national coalition of Master Naturalist-type program administrators. Learn more about ANROSP >>>